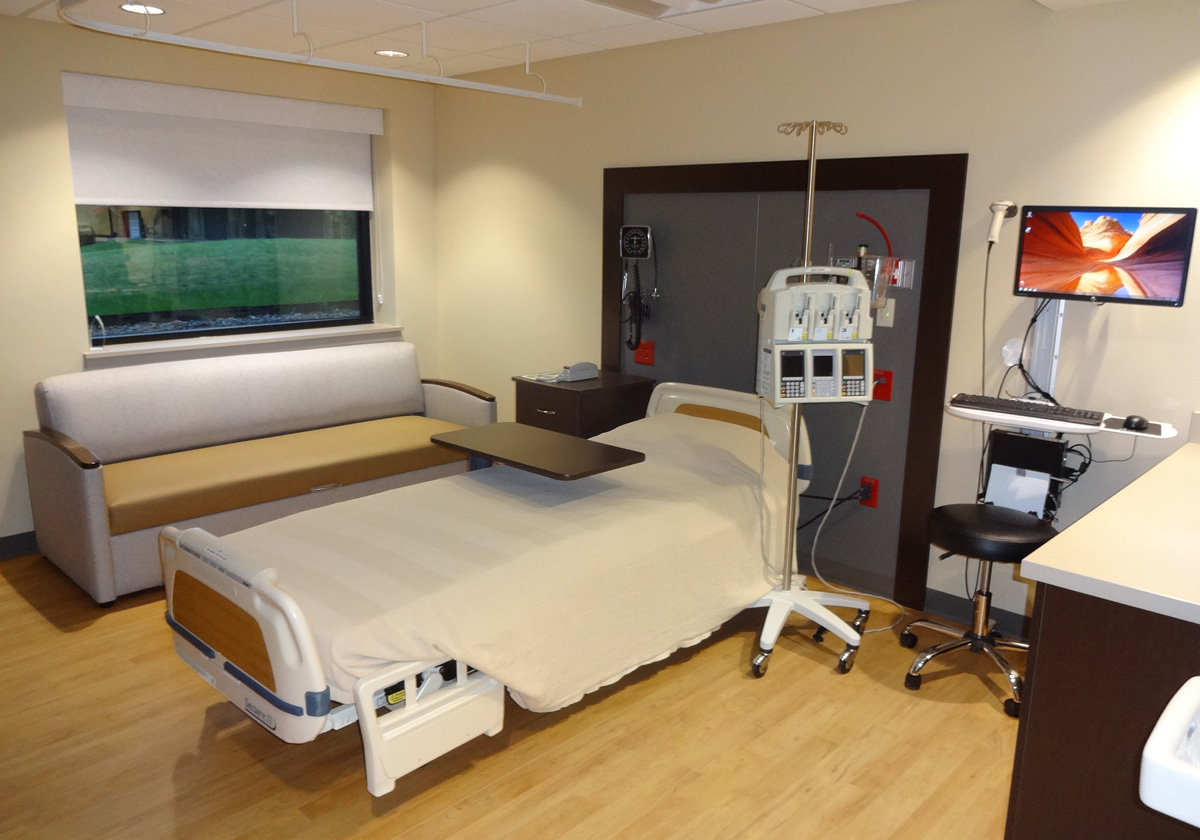 Welcome to the Knoxville Hospital & Clinics, and thank you for trusting us with your care. We are committed to providing you with the highest quality healthcare in the safest, most comfortable environment possible.
Virtually every inch of the hospital's newly remodeled medical/surgical and hospice patient rooms were designed with the needs of our patients in mind. Among our goals were to create a patient room and caregiver environment that enhances the patient experience by emphasizing comfort, safety, efficiency, and quality of care.
Patient rooms offer several key features and amenities.
Each room has three separate zones for patient, family and staff. The family zone has a comfortable seating area with a recliner and sleeper sofa to accommodate overnight stays by an adult family member.
A flat-screen television provides multiple TV and movie channels.
The computer terminal allows caregivers to immediately access, document and share patient information, improving communication with the patient and their family.
Oversize windows offer plenty of natural light and views of nature.
Storage for personal items is provided.
Sound absorbing materials in the corridor and patient rooms help reduce noise. 
A beautiful European-designed private bathroom is located a few feet from the bed. Handrails around the toilet and in the shower help prevent falls.
The nurse server is stocked from the corridor with necessary supplies, including a locked section for medication. With this feature, the nurse is able to spend more time with the patient, and the number of staff entering the room is minimized to reduce the risk of infection.
In-room dining is provided for the patient and their guests (guest meals may be purchased through the cafe and delivered to the patient's room).
Complimentary WiFi is available throughout the hospital.
A telephone is available for making local calls.
Books, magazines and activities are provided by our volunteers.
Knoxville Hospital has designed its rooms to serve our patients primarily as private rooms. However, in the event of above normal or at peak patient capacity, each room has the flexibility to be converted to a semi-private room. If a private room is not available at the beginning of your stay due to high patient capacity, we will make every effort to provide one as soon as possible.