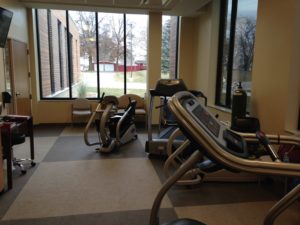 Cardiac and Pulmonary Rehabilitation at Knoxville Hospital & Clinics (KHC) is a specialized program to improve the health and wellness of individuals that have either heart or lung disease.
The rehabilitation after cardiac events is strongly endorsed by the American Heart Association, American College of Cardiology, American Thoracic Society, and Medicare.
Pulmonary rehabilitation for COPD and restrictive lung diseases is endorsed by the American Lung Association, American Thoracic Society, National Institute of Health, and American College of Chest Physicians.
At KHC, we offer both Phase II and Phase III rehabilitation for both cardiac and pulmonary.
Cardiac rehabilitation is a structured program that includes monitored exercise and education intended to aide you in recovery after a heart attack, heart surgery, stable angina, or heart failure. The ultimate goal of the program is to improve your heart health, thus reducing future heart problems. Most insurance plans allow for 36 sessions with a cardiac rehab nurse.
Pulmonary rehabilitation is a structured program that includes exercise and education to help improve the quality of life of a patient that has lung disease due to COPD, asthma, emphysema, bronchiectasis, cystic fibrosis, pulmonary fibrosis, and restrictive lung Disease. Pulmonary rehabilitation minimizes repetitive hospitalizations due to chronic infections.  Most insurance plans allow for 24 sessions with a pulmonary rehab nurse. If you have moderate to severe pulmonary obstruction you qualify for pulmonary rehabilitation. Talk to your primary care physician regarding a referral to our program.
For more information regarding the Cardiac and Pulmonary Rehabilitation Department, please call (641) 842-1558.