Chronic Care Management (CCM) are non-face-to-face services provided to Medicare beneficiaries who have multiple (two or more) significant chronic conditions expected to last a year or longer, and who are at risk of death or functional decline.
The primary goal of the CCM program is to assist patients with:
assessing needed health services.
coordinating care.
enhancing self-management skills, health behaviors and compliance with a plan of care.
maintaining health and functioning.
Knoxville Hospital & Clinics has CCM patients with diabetes, hypertension, heart disease, chronic obstructive pulmonary disease, arthritis, and other chronic conditions.
Persons interested in participating in this low-cost, high-value program can learn more by contacting their primary care provider. Patient enrollment and consent is required to participate.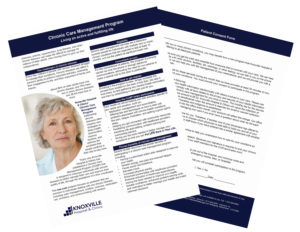 Learn more about the Chronic Care Program and Download the Patient Consent Form