Knoxville Hospital Clinic is located at 1202 West Howard Street in Knoxville, Iowa. The phone number is 641-842-7211 and the hours of operation are: Monday through Friday, 7:30 a.m. to 7 p.m.; Saturday, 8 a.m. to 2 p.m. Appointments begin at 8:30 a.m.
When you become a patient at Knoxville Hospital & Clinics, you and your family enter a partnership with us. You have personal knowledge, and the expertise and experience of knowing your own body and individuality. We have the medical expertise, and ability to use education, science and technology to improve your health. Together we become members of the same health care team – a team completely focused on your healing and restoring your quality of life through respect and compassionate care.Your health care team at Knoxville Hospital & Clinics consists of a provider, nurse and scheduler. Once established, patients can call their care team scheduler directly to ask questions, schedule or cancel appointments, or leave a confidential message on their secure line.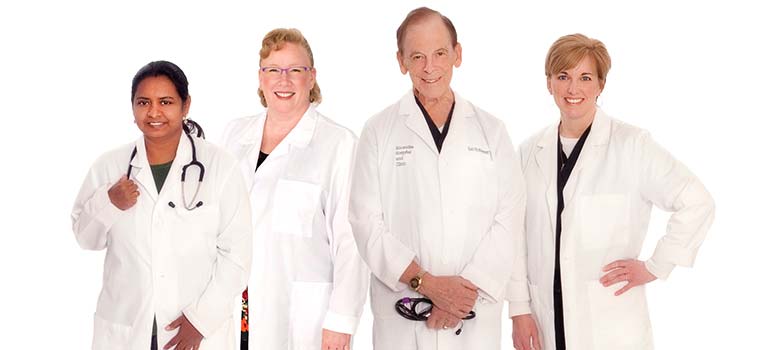 Care Teams at Knoxville Hospital & Clinics
| | |
| --- | --- |
| Dr. Hoehns, Dr. Worthington, Nick Ford, Jennifer Wilkin | (641) 842-7004 |
| Dr. McKeever, Dr. Remington | (641) 842-7005 |
| Dr. Bhama, Dr. Van Natta, Dr. Errthum | (641) 842-7006 |
| Natalie Rowley, Laci Dykstra | (641) 842-7007 |
| Brandi Booth, Pleasantville Clinic | (515) 848-3113 |
|  EJ McKeever Medical Center, Melcher Dallas | (641) 947-2121 |
---
Our Pleasantville Clinic is located at 104 North Washington Street in Pleasantville, Iowa. The phone number is 515-848-3113; and the hours are Monday, Tuesday, Thursday and Friday 7 a.m. to 5 p.m., Wednesday, 7 a.m. to 4 p.m. The clinic is closed daily from noon to 1 p.m.
We also have a medical office within the EJ McKeever Medical Clinic, located at 113 North Main Street in Melcher-Dallas, Iowa. The phone number is 641-947-2121 and hours of operation are every Tuesday, 8 a.m. to 5 p.m., and Thursday, 9 a.m. to 4 p.m.
Each clinic includes family practitioners who have extensive training in providing comprehensive health care for people of all ages from newborns to seniors.