The federal Centers for Disease Control and Prevention (CDC) and Iowa Department of Public Health are urging healthcare organizations to share information in their communities about Acute Flaccid Myelitis (AFM), after a second case has been confirmed in Iowa.
Iowa's State Medical Director and Epidemiologist Dr. Caitlin Pedati says both Iowa patients who were treated recently for the disease were younger than 18 and released from hospitals in western and central Iowa. There was also one case of AFM reported in Iowa in 2017.
What parents should know about the polio-like paralyzing disease the CDC is warning about.
Nancy Messonnier, director of the CDC's National Center for Immunization and Respiratory Diseases, said this dramatic and serious disease is causing a lot of concern nationwide. Of the confirmed cases, 90 percent are children. The average age is 4 years old.
What is AFM?
Acute flaccid myelitis (AFM) is a rare condition that affects the area of spinal cord called gray matter and can cause paralysis. The CDC said the cause of most AFM cases is unknown, but a few cases have been linked to other viruses. Other agents that can cause AFM include: environmental toxins, genetic disorders, and Guillain-Barre syndrome.
There is no specific treatment for it and long-term implications are unknown.
What symptoms should parents look for?
Parents are encouraged to seek medical care right away if you or your child develop sudden weakness or loss of muscle tone in the arms or legs. The most common symptoms are shown in the following image. In severe cases, children might have trouble breathing and need a ventilator because of muscle weakness.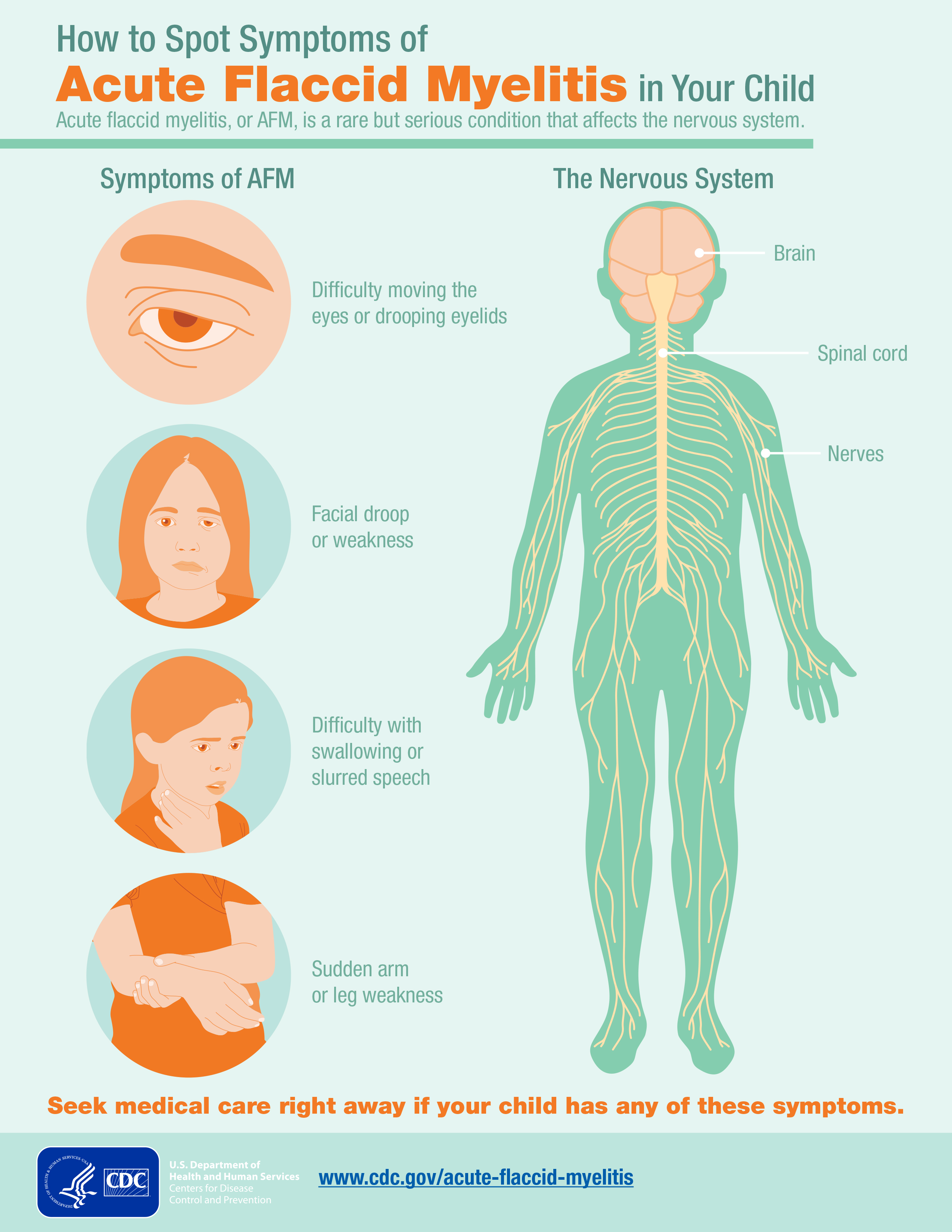 Has anyone died from AFM?
Yes, there is one report of a child dying from AFM in 2017, and six potential cases that happened in October 2018 that are being investigated.
What are the chances my child will get AFM?
Though cases have been on the rise since 2014, AFM still affects a small population – less than one in a million people in the U.S. annually.
How can AFM be prevented?
Prevention of AFM includes many of the same techniques to prevent infections from many viral infections including:
Being up to date on all recommended vaccinations, including poliovirus
Mosquito protection, including repellent and avoidance
Washing your hands often with soap and water
Avoiding close contact with ill people
Cleaning surfaces with disinfectant
Article references: CDC and Iowa Department of Public Health
---
The information on this blog is provided for general information purposes and is not a substitute for professional medical advice, care, treatment or evaluation; nor should it be used in diagnosing a health condition. You are encouraged to consult your health care provider if you or a family member has or suspect you have a medical problem.