Today, getting vaccinated for the flu prevents catastrophic loss of life, similar to what happened in 1918 during the influenza pandemics. That's why the Knoxville Hospital & Clinics is encouraging persons of all ages to get the flu shot during October, prior to the peak flu season. Just walk in to the Knoxville, Pella or Pleasantville clinic to get your flu shot.
Spanish Flu
2018 marks the one-hundred-year anniversary of the Spanish flu pandemic.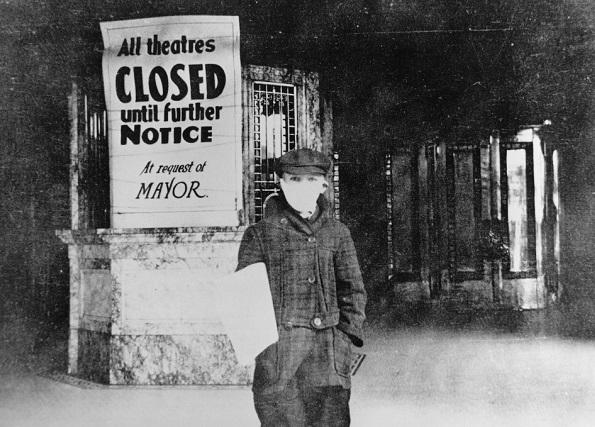 Approximately 10-20 percent of those who were infected died. With about one third of the world's population infected, the influenza is estimated to have killed as many as 25 million people in its first 25 weeks, and up to 100 million worldwide by the time it ended.
In the United States, about 28 percent of the population became infected, and 500,000-675,000 people died. The human toll of the pandemic was unimaginable, with children everywhere left orphaned when parents succumbed to the virus.
Historically, influenza outbreaks disproportionately kill young children, older adults, and persons with weakened immune systems; in contrast, the 1918 pandemic predominantly killed previously healthy young adults.
Three deadly waves
The Spanish flu arrived in three waves. The first and more mild strain of the virus appeared in the spring of 1918. It resembled a typical flu epidemic, and most of those infected recovered fairly quickly. The second wave arrived in the fall and was much deadlier than the first, especially for people ages 20 to 40. The third wave hit that winter, and by the spring of 1919 the virus had run its course.
Though the origin of the virus is not known, it arrived during WWI, when troop movements and the living conditions in military camps helped it to spread. One hypothesis is that the virus strain originated at Fort Riley, Kansas, and when the soldiers were sent around the world, they spread the disease. Others disagree and have suggested several other theories. When the flu arrived in neutral Spain, newspapers reported widely on it. As a result, the virus became known as the Spanish flu.
Stopping the spread
To contain the wildfire-like spread of the flu in the United States, gatherings were cancelled, schools closed, households quarantined, weddings postponed, and churches shuttered. Some communities closed all stores or required customers to leave orders outside. Only close family members could attend funerals of loved ones, and attendance was limited to 15 minutes.
Unsure how to best combat the spread of the virus, health departments advocated fresh air as a cure. The Surgeon General of the United States Army and the Journal of the American Medical Association both recommended very large doses of 8-31 grams of aspirin a day as part of treatment. Unfortunately, these levels will produce hyperventilation in 33% of patients, as well as lung edema in 3% of patients, leading to a wave of aspirin poisonings. The symptoms of aspirin position weren't known at the time.
---
Photo sources: 
Iowa State College gym converted to a hospital – https://slideplayer.com/slide/4351397/
Closed Theater – http://www.wunc.org/post/what-have-we-learned-flu-pandemic-1918