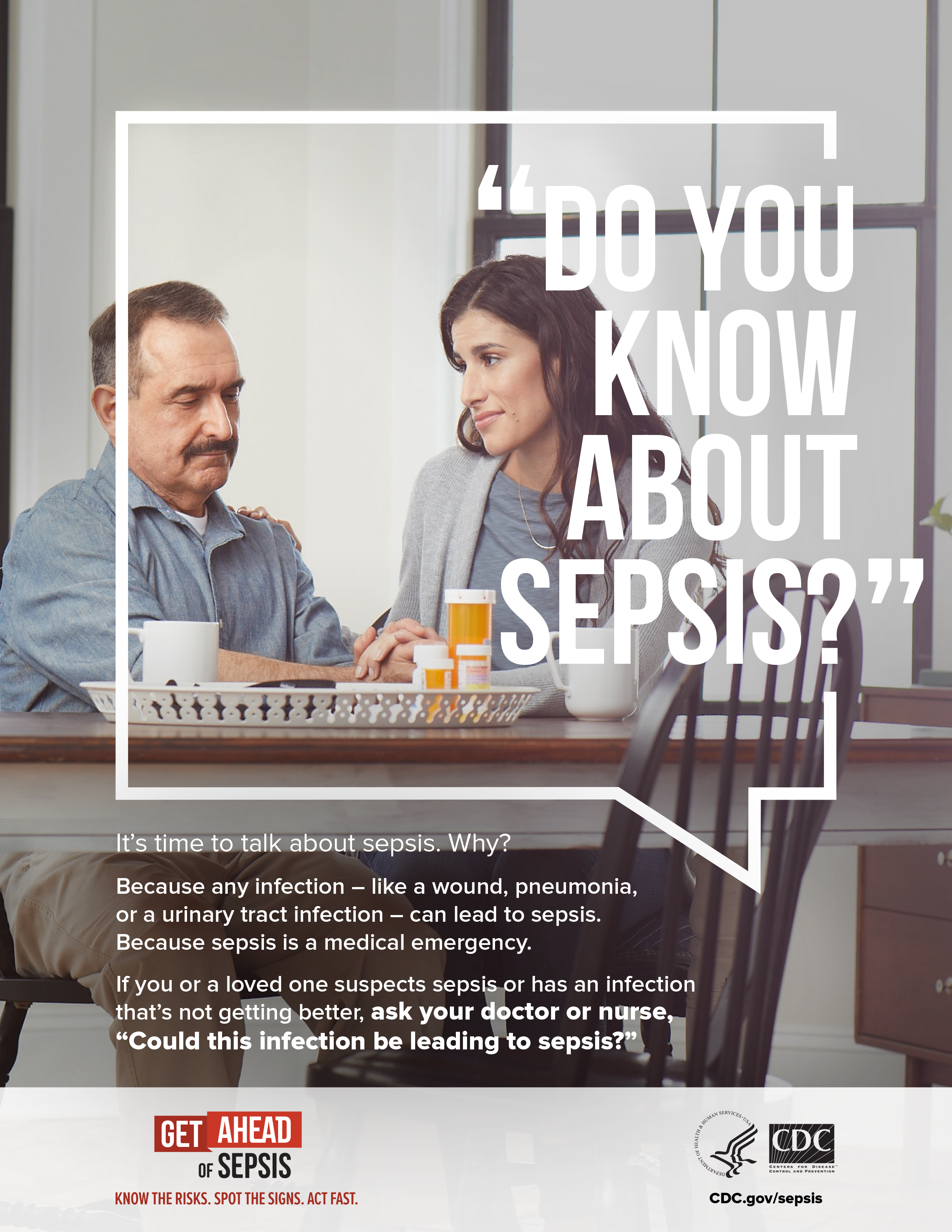 Sepsis is a life-threatening illness caused by your body's response to an infection. Without timely treatment, it can rapidly lead to tissue damage, organ failure, and death. The majority of cases of sepsis are due to bacterial infection.
Family caregivers of older adults play an important role in preventing infections and recognizing sepsis early.
Primary symptoms include: confusion or disorientation, fast respiratory rate, and low blood pressure.  However, patients may have many other signs and symptoms that can occur with sepsis, such as:
high heart rate
fever, shivering or very cold
extreme pain or discomfort
clammy or sweaty skin
dizziness
fatigue
facial flushing
shortness of breath
low urine production
skin discoloration
dysfunction of one or more organs
shock
sleepiness
Risk factors that lead to sepsis can be reduced by many methods. Perhaps the most important way to reduce the chance for sepsis is to first prevent any infections. Vaccines, good hygiene, hand washing, and avoiding sources of infection are excellent preventive methods. If infection occurs, seek immediate treatment before it has a chance to spread into the blood.
Getting the right antibiotic at the right time, in the right dose, and for the right duration, helps fight antibiotic resistance, protects patients from unnecessary side effects from antibiotics, and helps make sure life-saving antibiotics will work when we need them in the future
Learn more about antibiotic use and how you can Be Antibiotics Aware.
To learn more about preventing infections that can lead to sepsis, visit Get Ahead of Sepsis.
---
Contributor: Barb Anderson MT AAB, Patient Care Manager, Infection Prevention, Knoxville Hospital and Clinics
The information on this blog is provided for general information purposes and is not a substitute for professional medical advice, care, treatment or evaluation; nor should it be used in diagnosing a health condition. You are encouraged to consult your health care provider if you or a family member has or suspect you have a medical problem.