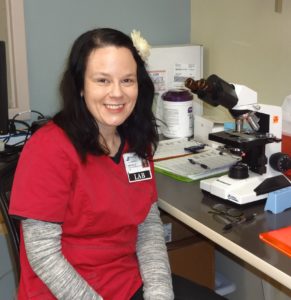 KNOXVILLE – Congratulations to Hayley Dobson, Lab, for being selected the KHC Hero of the Month at Knoxville Hospital & Clinics.
"Before leaving a patient's room, Hayley asked, "what else can I do for you?". The patient replied, "You could clean the snow off my car because I am leaving today." Hayley asked which car was his and he told her. She checked with the nurse to make sure he was actually being discharged that day. Hayley got her ice scraper from her vehicle, found his car, and cleaned it off. A while later she overheard him in the hall when getting ready to leave tell the nurse he was not looking forward to cleaning off his car. Hayley told him it was already done. He was shocked and extremely grateful that she would actually do that for him. This is a great example of "Owning It". Hayley went above and beyond to help this patient (especially since she really hates the cold). This act of kindness and service does not surprise me. Hayley is one of the first to jump up and help someone," read her nomination.
Hayley will be in the running for KHC Hero of the Year in May 2019.
The other employees nominated in March were Natalie Morgan, Rechelle Gamble, Kristina Morgan, Bobi Mart, Michelle Lewis, Luci Voshell, Lori Major, Dr. Brent Hoehns, and Natalie Mulder.
Knoxville Hospital & Clinics, a Critical Access Hospital serving Marion County and the surrounding area, is dedicated to providing personal, progressive quality health care with compassion.  For more information regarding this release and other happenings at Knoxville Hospital & Clinics, call the Public Relations office at (641) 842-1418 or visit www.knoxvillehospital.org.