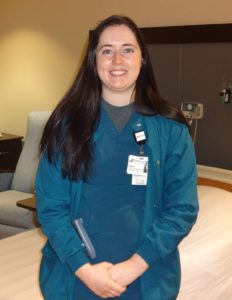 KNOXVILLE – Congratulations to Faith Martin, Nursing-Med/Surg., for being selected the KHC Hero of the Month at Knoxville Hospital & Clinics
"I am pleased to nominate Faith Martin for Hero of the Month. My wife, Judy, was a patient in the Med/Surg. Department in July and again in December and Faith was a part of the "care team" for both admissions. Her care was compassionate, but I believe she exemplified all six KHC values: teamwork, innovative, compassion, integrity, service, and people-centered. KHC, indeed the entire community, is fortunate to have such a dedicated and professional caretaker," read her nomination.
Faith will be in the running for KHC Hero of the Year in May 2019.
The other employees nominated in January were Samantha Clark and Megan Sutter.
Knoxville Hospital & Clinics, a Critical Access Hospital serving Marion County and the surrounding area, is dedicated to providing personal, progressive quality health care with compassion.  For more information regarding this release and other happenings at Knoxville Hospital & Clinics, call the Public Relations office at (641) 842-1418 or visit www.knoxvillehospital.org.