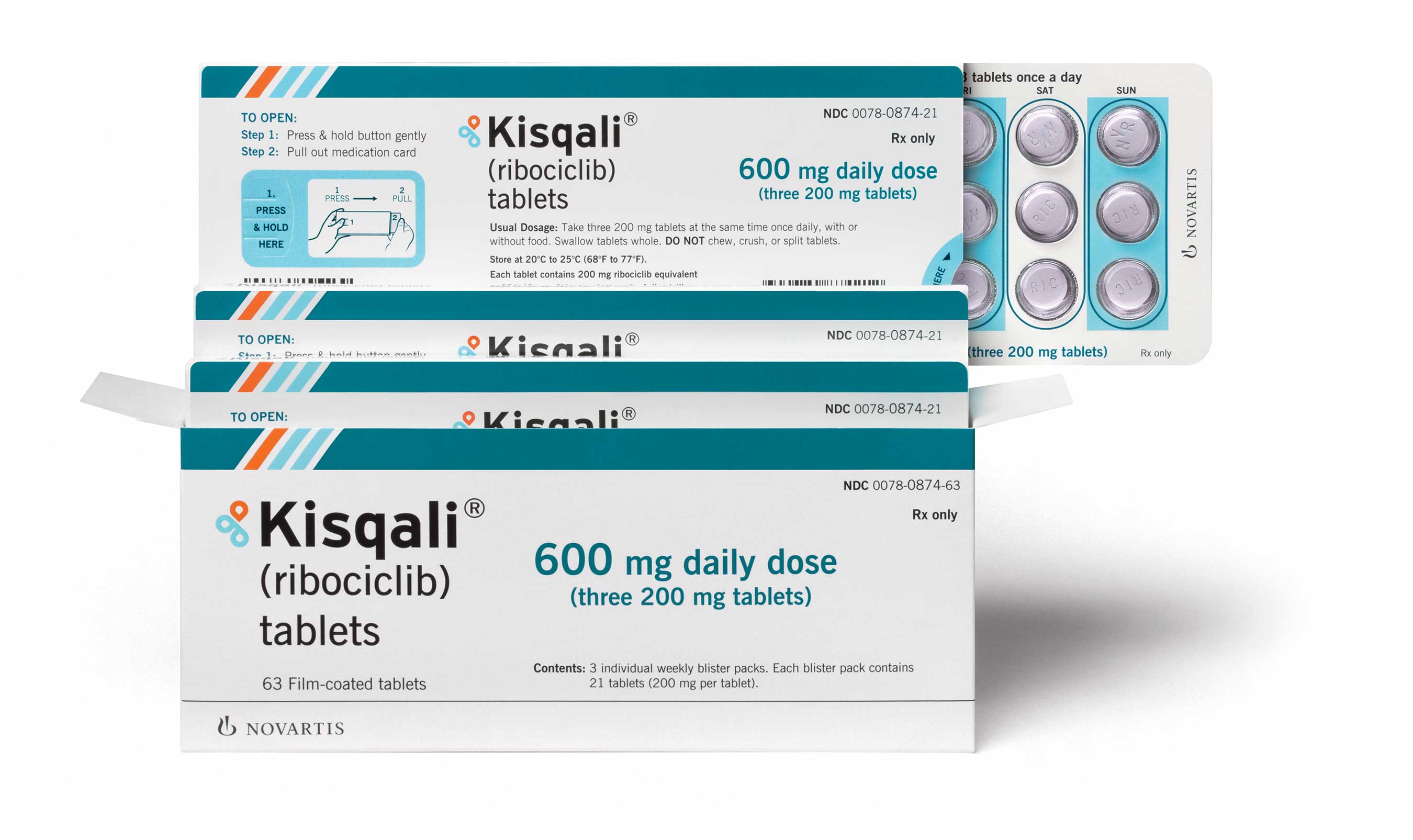 Liz Barrett, chief executive of Novartis Oncology, said, "With this new approval, Kisqali has the potential to help even more people in the U.S. live a longer life without progression of disease from this incurable form of breast cancer."
The FDA approved Navartis' Kisqali (ribociclib) for use in combination with an aromatase inhibitor as initial therapy for pre- or perimenopausal women with hormone receptor-positive, HER-2-negative advanced or metastatic breast cancer. In its clinical trial, patients showed a median PFS (progression-free survival) rate of 27.5 months compared with 13.8 months among those assigned a placebo.
The FDA also approved the drug's use in combination with fulvestrant (Faslodex, AstraZeneca) for the treatment of postmenopausal women with hormone receptor-positive, HER-2-negative advanced or metastatic breast cancer, as initial therapy or following disease progression on endocrine therapy. In its clinical trial, patients showed a median PFS of 20.5 months compared to 12.8 months among the control group.
"The approval adds a new treatment choice for patients with breast cancer," Richard Pazdur, MD, director of the FDA's Oncology Center of Excellence and acting director of the office of hematology and oncology products in the FDA's Center for Drug Evaluation and Research, said in a press release. "We are committed to continuing to bring more treatment options to patients."
Adverse actions
The most common treatment-related adverse reactions included neutropenia, nausea, infections, fatigue, diarrhea, leukopenia, vomiting, alopecia, headache, constipation, rash and cough.
FDA pilot programs
These are the first approvals under two new FDA pilot programs — Real-Time Oncology Review and Assessment Aid — aimed to cut back on some of the administrative issues that can expand the time and cost of the FDA review process. With this real-time review, the FDA was able to start evaluating the clinical data as soon as the trial results became available and the formal application was received.
Financial assistance and support for patients
As patients start new treatment with Kisqali, they may require financial assistance. KISQALI Care is a comprehensive patient support program that provides patients with a dedicated navigator who can help individuals get the most out of the patient support available to them. Commercially insured patients may be eligible for the Novartis Universal Co-pay Program, with $0 co-pay on their prescription. Patients may also be eligible for the "1 Free Treatment Cycle" supply of Kisqali and or the generic letrozole at no cost. Limitations and conditions apply. To find if you are eligible, visit www.CoPay.NovartisOncology.com or call 1-877-577-7756.
Speak to your healthcare provider
Knoxville Hospital & Clinics provides care and support for patients during their cancer journey. We utilize a multidisciplinary approach to address each cancer patient's individual and unique needs, from prevention, early detection and treatment, through survivorship. KHC's medical staff work closely with oncologists Amy E. Hughes, DO, and Roy Molina, MD, in delivering patient care.
If you or a family member has been diagnosed with advanced or metastatic breast cancer, speak with your primary care provider or oncologist about whether Kisqali might fit into your treatment plan.
---
The information on this blog is provided for general information purposes and is not a substitute for professional medical advice, care, treatment or evaluation; nor should it be used in diagnosing a health condition. You are encouraged to consult your health care provider if you or a family member has or suspect you have a medical problem.