KNOXVILLE – Justin and Lauren Plum, husband and wife physical therapists, have joined the 21st Century Rehab staff at Knoxville Hospital & Clinics.
"Lauren and I are both looking forward to growing our practices and bringing the 21st Century Rehab vision statement to a reality in Knoxville: work well, play well, live well," said Justin Plum. "In addition we are excited to get involved in the community and getting to know people on a more personal level."
After graduating from the University of Northern Iowa in 2007 with a Bachelor of Arts in Biology and graduated from PT school at the University of Iowa in 2009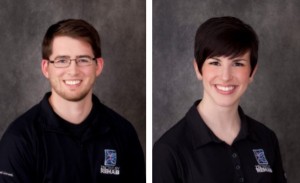 with a Doctor of Physical Therapy, Justin has worked in a variety of healthcare settings, including private practice, hospital-based outpatient, inpatient, home health, skilled nursing, and work conditioning. He has a certification in Mechanical Diagnosis and Therapy for treatment of spinal disorders and back pain.
Lauren graduated from Southeast Missouri State University in 2007 with a Bachelor of Science in Exercise Science and graduated from PT school at the University of Iowa in 2009 with a Doctor of Physical Therapy. For the last five years she has worked in hospital-based outpatient physical therapy clinics and private practice outpatient clinics. She is currently studying for a certification in Manual Therapy (hands-on treatment).
In her spare time Lauren enjoys teaching Zumba and has joined Tresa Mott's School of Dance and The Next Chapter Studios as an instructor. She also enjoys beginner skiing and cooking. In his spare time Justin enjoys home brewing beer, gardening, and playing video games.
According to Justin, as a physical therapist, he finds it very rewarding being able to help an individual return to activities that they were previously unable to do, like hobbies and work.  Lauren added that playing detective to figure out a problem and improving her patients' quality of life is another rewarding part of the job.
"We wanted to be part of a team who work to provide the best possible care for their patients in a friendly and welcoming environment, and that is what we've found at Knoxville Hospital & Clinics," Justin said.
The Knoxville Hospital & Clinics physical therapy team provides care for patients of all ages, from pediatric to geriatric.  Services available include back, neck, shoulder, hip, knee, ankle, and foot rehabilitation; pre and post-surgical rehab; occupational therapy; athletic services; neurological/stroke rehabilitation; Lymphedema; industrial rehab and a wide range of modalities.  Patients must be referred to receive outpatient treatment by a licensed healthcare provider.
Knoxville Hospital & Clinics, a Critical Access Hospital serving Marion County and the surrounding area, is dedicated to providing personal, progressive quality health care with compassion.  For more information regarding this release and other happenings at Knoxville Hospital & Clinics, call the Public Relations office at (641) 842-1418.
.