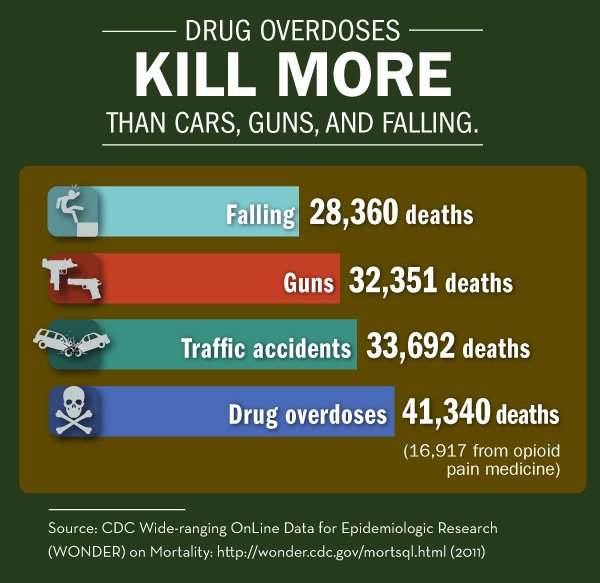 Every day, communities across the country are witnessing the devastating effects of the opioid epidemic.  Nowhere is the impact more evident than in our medical clinics and hospitals.
According to the University of Iowa, Injury Prevention Research Center, prescription drug overdose deaths have been rising since the early 1990s, and in 2009 surpassed transportation-related events as the leading cause of death in the United States.  Opioids are primarily driving the increase in these deaths.
In Iowa, the rates of prescription drug deaths since 1999 have quadrupled, making it only one of four states with such a dramatic increase. Heroin overdose rates in Iowa have increased more than nine-fold in the past 15 years. The rapid growth of heroin death rates in Iowa is two to three times higher than the national average.
What are opioids?
Opioids are a class of drugs that include the illegal drug heroin, synthetic opioids such as fentanyl (regarded as more potent than morphine), and pain relievers available legally by prescription, such as codeine, morphine, oxycodone, hydrocodone (Vicodin), and many others.
Opioid pain relievers are generally safe when taken for a short time as prescribed by a doctor, but because they produce euphoria in addition to pain relief, they can be misused. Regular use, even as prescribed by a doctor, can lead to dependence. When misused, opioid pain relievers can lead to overdose incidents and death.

Both men and women are affected by these addictive chemicals
A University of Iowa study published in March 2017, found that people ages 25-49 make up the majority of opioid-involved overdose deaths in Iowa, followed by ages 50 and over. Males make up the majority of deaths in Iowa from both prescription opioids and heroin. However, women are not exempt from the addictive power of opioids. In fact, every 3 minutes a woman goes to the emergency room for a prescription painkiller misuse or abuse in the U.S., according to a September 2017 article published in WebMD.
How KHC is tackling the opioid crisis
Across the country, medical facilities are working together to address this public health crisis, employing a range of different strategies.
"At Knoxville Hospital & Clinics, we are addressing the crisis by following the guidelines issued by the Centers for Disease Control, which involves limiting the issuance of opioid prescriptions," said Chief Clinical Officer MaryJane Hunt.
The CDC guidelines encourage providers to prescribe the lowest effective dose of immediate-release opioids for the shortest duration for post-operative care and for acutely injured patients. Three days or less will often be sufficient; more than seven days will rarely be needed.  
Outside of active cancer, palliative and end-of-life care, nonprescription drug therapy and nonopioid prescription therapy are preferred for chronic pain (pain that lasts for 3 to 6 months or more).
Talk to your doctor about your pain
If you are experiencing moderate to severe pain – whether chronic or due to an injury or medical condition – ask one of our professional primary care providers, acute care providers or emergency department physicians for a medical diagnosis.  Our medical staff are genuinely concerned about the pain experienced by our patients and want to ensure they receive appropriate treatment.
Discuss options for managing your pain in a way that doesn't involve prescription opioids. Some of these options may actually work better and have fewer risks and side effects. Depending on the type of pain you are experiencing, options may include:
Acetaminophen (Tylenol®) or ibuprofen (Advil®)
Cognitive behavioral therapy – a psychological, goal-directed approach in which patients learn how to modify physical, behavioral, and emotional triggers of pain and stress
Exercise therapy, including physical therapy
Medications for depression or for seizures
Interventional therapies (injections)
Exercise and weight loss
Other therapies such as acupuncture and massage
Contributing sources: IPRC, CDC, WebMD
The information on this blog is provided for general information purposes and is not a substitute for professional medical advice, care, treatment or evaluation; nor should it be used in diagnosing a health condition. You are encouraged to consult your health care provider if you or a family member has or suspect you have a medical problem.