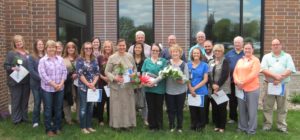 KNOXVILLE, Iowa – In connection with National Hospital Week, Knoxville Hospital & Clinics held their annual service awards ceremony on Monday, May 13. Thirty-five employees were presented with service awards this year totaling 260 years of service to our patients and the communities we serve. Employees were recognized with 5, 10, 15, and 25-year service awards.
Service Awards
5 years of service: Miles Anderson, Nursing-Med/Surg.; Terri Archibald, Nursing-Med/Surg.; Olga Bashtovoy, Environmental Services; Steve Bitzkowski, Business Office; Sherri Church, Nursing-ER; Connie Creary, Nursing-Clinic; Melissa Crook, Nutritional Services; Jessica Dittmer, Nursing-Surgery; David Glick, Environmental Services; Heather Key, Clinic; Angela Lund, Imaging; Brian Miller, Maintenance; Natalie Morgan, Materials Management; Kristen Pearson, Administration; Mikka Phillips, IT; Dr. Shannon Remington, Clinic Provider; April Roland, Business Office; Molly Salmonsen, Nursing-Med/Surg.; Amber Santoro, Nursing-Med/Surg.; Kim Shever, Nursing-Clinic; Jolinda Smith, Business Office; Kassidy Swayne, Nursing-Clinic; Christina Walter, Nursing-ER; Heather West, Nursing-ER; and A Zanoni, IT.
10 years of service: Crystal Counts, Nursing-Clinic; Susan Danks, Business Office; Kelli Dunkin, Nursing-Clinic; Rhonda Lewin, Nursing-Clinic; Stephanie Probst, Nursing-ER; Sherry Sneller, Surgery; and Josh Ten Napel, Imaging.
15 years of service: Chuck Keuning, Maintenance.
25 years of service: Karol Hoehns, Lab, and John Gotta, Maintenance.
Each employee was honored with a VISA gift card in various amounts.
Hero of the Year and DAISY award
Hayley Dobson, Lab, was recognized as the 2019 KHC Hero of the Year and Deb Lefler was presented with the annual DAISY award. Other nurses nominated for the DAISY award were Leanne Brodersen, Clinic; Julie Waltenberger, Cardiac Rehab; Stephanie Probst, ER; and Kyli Jones, Clinic.
Knoxville Hospital & Clinics, a Critical Access Hospital serving Marion County and the surrounding area, is dedicated to providing personal, progressive quality health care with compassion.  For more information regarding this release and other happenings at Knoxville Hospital & Clinics, call the Public Relations office at (641) 842-1418.
Photo Caption:
Thirty-five employees were presented with service awards at Knoxville Hospital & Clinics as part of the Hospital Week activities on May 13.
Row 1: Karol Hoehns, Heather West, Olga Bashtovoy, Hayley Dobson, Deb Lefler, Angela Lund, Sherry Sneller, Kristen Pearson, and Brian Miller.
Row 2: Julie Waltenberger, Stephanie Probst, Rhonda Lewin, Jolinda Smith, Leanne Brodersen, April Roland, Steve Bitzkowski, A Zanoni, Chuck Keuning, John Gotta, Josh Ten Napel, and David Glick.