KNOXVILLE, Iowa – In connection with National Hospital Week, Knoxville Hospital & Clinics held their annual service awards ceremony on Monday, May 8.
Thirty-seven employees were presented with service awards this year totaling 415 years of service to our patients and the communities we serve.
Employees were recognized with 5, 10, 15, 20, 25, and 30 year service awards.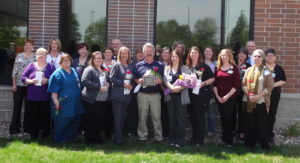 5 years of service: Sharon Campbell, Nursing; Yolanda Chavez, Nutritional Services; Cathy Crook, Business Office; Jesse Crum, IT; Misty Fisher, Business Office; Rechelle Gamble, Nursing; Megan Gist, Clinic; Beth Hoy, Environmental Services; MaryJane Hunt, Administration; Dr. Dave Kermode, Surgery; Lisa Oldham, Utilization Review; Alicia Schossow, Fiscal Services; Kyley Swayne, Clinic; Cheryl Thiel, Registration; Nancy Greiner, Occupational Health; Tiffany Randall, Nursing; Halie Myers, Lab; and Chris Forst, Lab.
10 years of service: Brandi Booth, Pleasantville Clinic; Lisa French, Administration; Stacey Hall, Business Office; Kellie Jones, Nursing; Lori Major, Lab; Lindsay Wilson, Lab; Juanita Wilson, Nursing; and Joy Pierce, Nursing.
15 years of service: Katrina Nelson, Public Relations.
20 years of service: Deb Cross, HIM; Sue Flander, Infusion Center Patti L'Heureaux, Nursing; Elaine Dralle, Clinic; Terry Rose, Clinic; Dixie Smith, Nursing; and Susan Woodle, Physical Therapy.
25 years of service: Deb Dye, Nursing; and Linda Shilling, Clinic.
30 years of service: Dawn Crozier, Nursing; and DeLoris Samuelson, Pharmacy.
Each employee was honored with a VISA gift card in various amounts.
Larry VanBaale was recognized as the 2017 KHC Hero of the Year and Leah Sims was presented with the annual DAISY award.
Knoxville Hospital & Clinics, a Critical Access Hospital serving Marion County and the surrounding area, is dedicated to providing personal, progressive quality health care with compassion.  For more information regarding this release and other happenings at Knoxville Hospital & Clinics, call the Public Relations office at (641) 842-1418.