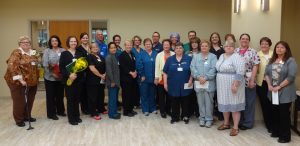 KNOXVILLE – In connection with National Hospital Week, Knoxville Hospital & Clinics held their annual service awards ceremony on Monday, May 9.
Thirty-seven employees were presented with service awards this year totaling 440 years of service to our patients and the communities we serve.
Employees recognized with 5 years of service were: Megan Anderson, Nursing; Erica Antolik, Clinic; Leanne Brodersen, Nursing-Clinic; Sandy Cupples, Nursing-Med/Surg.; Hayley Dobson, Lab; Maggie Hamilton-Beyer, Administration; Lonni Harrington, Imaging; Dr. Brent Hoehns; Jeffrey Johnston, Nursing-ER; Erin Montgomery, Nursing-Med/Surg.; Megan Roop, Nursing-ER; Kayt Smith, Clinic; Deb Swihart, Nursing; Larry Van Baale, Nursing-Med/Surg.; Tina VandeKamp, Imaging; Becky West, Nursing-Med/Surg.; and Sheryl Woods, Clinic.
The employees acknowledged for 10 years of serviced included: Kristy Bennett, Clinic; Dr. J. Bhama; Elizabeth Mitchell, Business Office; Beth Northway, Business Office; Troy Padellford, Pharmacy; Sharon Puffinbarger, Clinic; Shantell Schneider, Nursing-Med/Surg.; Kevin Swartzendruber, Environmental Services; and Mike Worthington, Facilities Management.
Fifteen year services awards were presented to Bobi Mart, Imaging-MRI; Cindy Pettyjohn, Clinic; and Stephanie Sterner, Lab.
Sue Burns, Clinic, and Jennifer Padellford, Nursing-Surgery, were recognized for 20 years of service.
Chryl Spoon, Nursing-ER, was recognized for 25 years of service.
Nancy Bennett, Environmental Services, was recognized for 30 years of service.
Recognized for 35 years of service were Julie Albert, Registration, and Karen Kraber, Fiscal Services.
Barb Anderson, Infection Prevention, was recognized for 45 years of service.
Each employee was honored with a VISA gift card in various amounts.
Special awards were given to Elizabeth Hembrook, DAISY Award; Jocelyn Richards, 2016 KHC Hero of the Year; and John Gotta, Outstanding Service Award for his dedication and diligence to the construction and renovation project.
Knoxville Hospital & Clinics, a Critical Access Hospital serving Marion County and the surrounding area, is dedicated to providing personal, progressive quality health care with compassion.  For more information regarding this release and other happenings at Knoxville Hospital & Clinics, call the Public Relations office at (641) 842-1418.