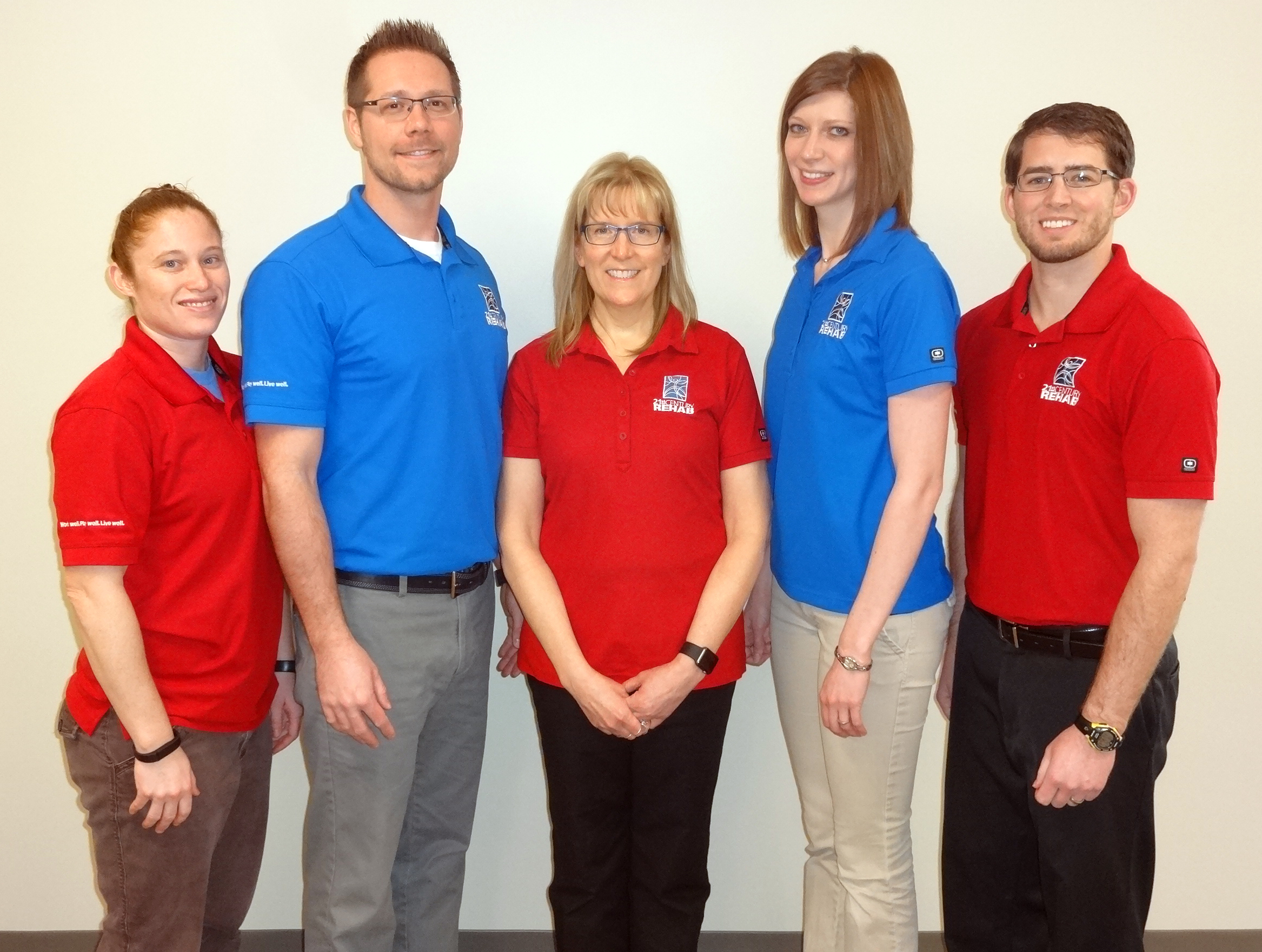 Knoxville Hospital & Clinics (KHC) has established a partnership with 21st Century Rehab, an Iowa-owned professional practice dedicated to quality therapy services. They provide physical therapy (PT) and occupational therapy (OT) to our patients. 21st Century Rehab employs four doctors of physical therapy, several therapists and other staff in Knoxville.
The goal of the therapist is to find the precise mechanism for patient's pain and correct the underlying movement impairment. By understanding a person's daily habits, including job activities, hobbies and general lifestyle, the physical therapist is able to identify and correct the movement impairments that are causing the pain or dysfunction, rather than just treating the area where the pain is manifested. The therapist will develop a treatment program that will help you achieve the highest level of function in the least amount of time.
The 21st Century Rebab clinic is located in KHC's newest building addition in Knoxville, which features a wide-open gym, and semi-private and private treatment rooms. There is also space for occupational therapy staff to work with their patients and prepare them to return to their everyday lives.
Staff can help with:
Evaluation and treatment of physical disabilities.
Manual therapy—Soft tissue mobilization, spinal and joint mobilizations, suboccipital release, scar mobilizations, lymphatic drainage, manual traction, and joint manipulation.
Therapeutic modalities— electrotherapy, ultrasound/phonophoresis, iontophoresis, heat, cold and mechanic traction.
Therapeutic exercise—sport specific exercises, agility, strength training, cardiovascular endurance, muscular endurance, neuromuscular reeducation, gait training, durable medical equipment training, activities of daily living specific training.
Occupational therapy helps patients develop, recover or maintain the daily living and work skills with a physical, mental or developmental condition. Our patients benefit from an experienced team who work closely with one another and your physician to provide the best treatment for your needs.
They also offer:
Free injury screens
Pediatric-specific therapy
Work Hardening, for work-related injuries
TMJ dysfunction treatment
Vertigo treatment
Collaboration with school district athletics programs for sports assessments and follow-up treatment
Panther Power, a two-part speed and agility course for 7th and 8th graders at the Knoxville Community School District
Home assessments for hospital patients
Lymphedema therapy
A Medically Oriented Gym membership program (see brochure)
Dry Needling, for trigger point pain management
Bumps & Bruises Clinic – offered to all area high school student-athletes every Saturday morning from 7:00 – 7:45 am in the Physical Therapy department (offered during regular football season – now through October 25, 2019)
---
21st Century Rehab's clinic in Knoxville is managed by Dr. Justin Plum. After graduating from the University of Northern Iowa in 2007 with a Bachelor of Arts in Biology and graduated from PT school at the University of Iowa in 2009 with a Doctor of Physical Therapy, Justin Plum, PT, DPT, OCS, Cert MDT, has worked in a variety of healthcare settings, including private practice, hospital-based outpatient, inpatient, home health, skilled nursing, and work conditioning. He has a certification in Mechanical Diagnosis and Therapy for treatment of spinal disorders and back pain.
To schedule an appointment or for more information regarding physical and occupational therapy services, please call (641) 842-1464 or fax (641) 842-1478.