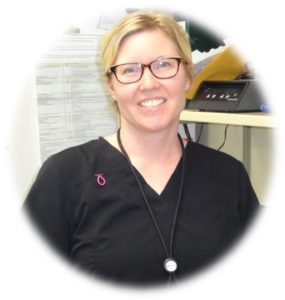 KNOXVILLE – Congratulations to Stephanie Sparks, Lab, for being selected the KHC Hero of the Month at Knoxville Hospital & Clinics.
"Steph is probably one of the best employees I've ever gotten the pleasure to work with. She gives 110% every time she walks in the door and always has a positive attitude. She noticed that I was regularly overwhelmed on second shift so she asked her boss if she could change her hours around so she could work later to help me out. And even then she still stays later when we are super swamped in the Lab some nights. Just last night she stayed late to register patient samples from an outside clinic so the ER clerk wouldn't have to worry about it because the ER was extremely busy. I think that showed exemplary integrity and teamwork. She's not only looking to help her immediate coworkers in the Lab Department, but also those who will never even realize what she has done for them, which is pretty much the definition of integrity. Working alongside Steph Sparks is a very humbling experience, and by that I mean I thought I was a hard worker until I met her," read her nomination.
Stephanie will be in the running for KHC Hero of the Year in May 2019.
The other employees nominated in April were James Agey, Marie Wright, Melissa Crook, Molly Salmonsen, Rosie Reid, Cheryl James, Courtney Bingham, Gaye Arkema, and Angie Bakala
Knoxville Hospital & Clinics, a Critical Access Hospital serving Marion County and the surrounding area, is dedicated to providing personal, progressive quality health care with compassion.  For more information regarding this release and other happenings at Knoxville Hospital & Clinics, call the Public Relations office at (641) 842-1418 or visit www.knoxvillehospital.org.