Through medical, surgical and cosmetic dermatology, we offer a comprehensive approach to skin care for adults and children. Using advanced diagnostic and therapeutic services with state-of-the-art technology, we provide customized care and treatment to best treat you and your family.
Anne Nelson, ARNP, of Bergman Folkers Plastic Surgery, provides dermatology services and procedures at Knoxville Hospital & Clinics (KHC).
She will see patients with any condition of the skin, hair and nails, including, but not limited to, the most common conditions, such as acne, sun damaged skin, eczema, basal cell carcinoma, calluses and corns, ingrown hairs, scars, age spots, skin cancer, spider veins, and more.
---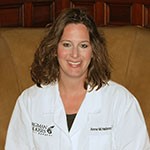 Anne Nelson, PA
Anne Nelson is employed by Bergman Folkers Plastic Surgery and specializes in dermatology, Botox, and Sclerotherapy. She received her undergraduate degree in Genetics from Iowa State University and her Master's degree in Physician Assistant studies from Des Moines University. She is a member of the Society of Dermatology Physician Assistants, Iowa Physician Assistant Society and the American Academy of Physician Assistants.
To make an appointment to see Anne Nelson at the KHC, please call (641) 842-1217.