Why We Give: Suhrs Give Back to the Knoxville Hospital & Clinics Foundation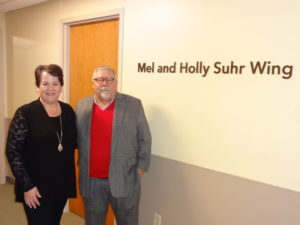 The KHC Foundation is very appreciative of generous donors who help make the delivery of compassionate care by 275 employees possible. These donors, including Mel and Holly Suhr, are vital to helping the Foundation continue its mission.
Having lived in Knoxville for 36 years and owning the local radio station, Mel and Holly know how hard it is to produce a quality service in a small area. After serving on the hospital's board of trustees for 12 years, Mel saw what it means to see a need and help accomplish it.
"We have seen how the hospital has grown and developed," says Mel. "We wanted to show our sincere appreciation for the good it has done for the community."
For the Suhrs, making a commitment to the KHC Foundation comes from a place of joy. Both say that they feel supporting their community is an obligation they take seriously.
"Giving back in any way – from using the facility and services, to financial support – is saying "thank you" for the hard work and commitment the KHC staff demonstrates daily to care for the people of the Knoxville community," said Mel.
KHC CEO Kevin Kincaid is extremely appreciative of the support received from donors like Mel and Holly.
"Donors make a difference for the KHC Foundation. Thanks to the generosity of many people, the Foundation is able to advance patient care. Our donors, like Mel and Holly, are investing in the future of healthcare and we are grateful for the support," said Kincaid.
---
Smith Family Carries on Legacy in Hometown Community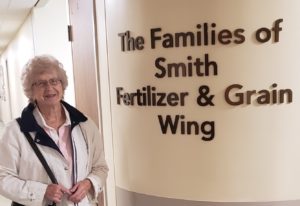 Carrying on his family's legacy in his home community of Knoxville is very important to Max Smith.
"Our roots run deep. My mother was a cheerleader in high school at Knoxville and my parents, Lyman and Jeanne Smith, started our business [Smith Fertilizer and Grain] in late 1972," says Max. "My brother, John, and I have been with the business since its inception. We have raised our families here in Marion county and now five of our sons are in business with us."
Max and his family support the Knoxville Hospital & Clinics Foundation in part because he appreciates what it means to the people of the region.
He says, "Knoxville Hospital & Clinics is a vital artery to not only our town, but the whole community. We need a hospital that can take care of our primary needs and yet has the vision to take care of our future needs."
Finding ways to give back to his home community that has given so much to him through the years helped inspire his family's donation to the KHC Foundation.
"Our hospital cannot function to the high levels that we all want without donations to sponsor, finance, or assist the needs that it takes to administrate [the hospital] in today's competitive world we live in," says Max. "I appreciate having the medical care I need right here in my community, and for that reason, I choose to support the Knoxville Hospital & Clinics Foundation."
---
Long-time Knoxville Couple Makes Gift that Leaves a Lasting Impact
Don and Margaret Long knew they wanted to make a donation to the Knoxville Hospital & Clinics Foundation that would bring about change.
"Over the years, we've had the benefit of receiving very good care at Knoxville Hospital & Clinics. We wanted to help the community," said Don.
The Knoxville Hospital & Clinics had a vision to provide cutting-edge orthopedic care to not only residents of Marion county, but to people from across the state. The partnership with Dr. Todd Peterson and Capital Orthopaedics & Sports Medicine to enter the innovative world of robotics has been very successful, and Knoxville Hospital & Clinics remains one of the first hospitals in Iowa to offer partial and total knee replacement surgery.
Thanks to a generous gift from Don and Margaret, the hospital continues to make orthopedic care a priority.
"It's a privilege to support the hospital in this way. We're getting to the stage of life where we need orthopedic services," said Don. "It's important to have those services available close to home."
Don added that he and Margaret like to give to projects where they get to see the impact the gift has on the organization and people it serves.
The Longs moved to Knoxville in 1969 when Don was transferred by Continental Telephone Company. Margaret was a long-time elementary teacher in the Knoxville school district, they are both now retired.
Their relationship with the hospital has always been strong, but it grew when Don served on the board of directors in the mid-2000s.
"Serving on the board really opened my eyes to what it takes to make a hospital successful," said Don. "This hospital benefits our entire community. Not only does it provide outstanding medical care close to home, but it also provides jobs and a boost to our local economy."
Kevin Kincaid, CEO, Knoxville Hospital & Clinics, is very excited about the direction the organization is heading.
"We have a vision to become the best community hospital in the state and we took a big step in that direction with the $15 million renovation    project that we completed in the spring of 2016. The community's support is very important as we continue to tackle vital updates and improvements to our medical facility. I'm extremely grateful for Don and Margaret's investment in Knoxville Hospital & Clinics."
---
Coming Together to Make a Difference
McKay Insurance Agency Makes Pledge Towards Pleasantville Clinic Expansion Project
The belief that a community needs a strong hospital at its base is one of the reasons McKay Insurance Agency has pledged $10,000 to the Knoxville Hospital & Clinics Foundation for the expansion and renovation of the Pleasantville Clinic.
"There are several things that must be very strong to be the base of the community and we believe those are a school and hospital," said Todd Chambers, Principal at McKay Insurance Agency. "We are excited to partner with the Knoxville Hospital & Clinics and see what the clinic expansion will provide the Pleasantville residents."
Last March it was announced that Peoples Bank would be donating the current bank facility in Pleasantville to Knoxville Hospital & Clinics for expansion of the Pleasantville Clinic. The project, expected to begin this spring, will renovate and expand the clinic to accommodate increased patient volumes, expanded clinical services, and additional space to provide care for patients in a healing, comfortable, and more private environment.
"We are very grateful to Todd Chambers and McKay Insurance Agency for their generous donation to initiate the success of this fundraising campaign," said Kevin Kincaid, CEO, Knoxville Hospital & Clinics. "Their thoughtful, community-minded approach to business and leadership is a valuable support in our efforts to meet the changing needs and demands of the Pleasantville Clinic."