KNOXVILLE – Deb Swihart and Kellie Jones, Registered Nurses at the Knoxville Hospital & Clinics, have been honored as two of the 100 Great Iowa Nurses. Deb, Director of Nursing, has been employed at KHC for four years; and Kellie, Emergency Department Coordinator, has been employed at KHC for seven years.
The 100 Great Iowa Nurses program recognizes outstanding nurses whose contributions to patients, colleagues and the profession are considered exceptional. Nur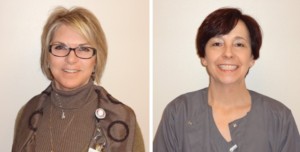 ses from hospitals, long-term care facilities, schools and offices are all nominated, and the top 100 are chosen by a panel of reviewers who are all past honorees. The panel reviews each candidate and his or her qualities that show they go above and beyond the call of duty. The candidates are given points based on their concern for humanity, most significant contribution to the nursing profession and leadership and mentoring.
The group of 100 nurses who were chosen, including Deb and Kellie, will be honored on May 3 at the 100 Great Iowa Nurses Celebration in Des Moines.
"I am very proud of Deb and Kellie and the work they do every day to help improve the health of the people and communities we serve," said Kevin Kincaid, Chief Executive Officer. "They are excellent nurses and I am very happy that they have been publicly recognized for the role they play in our organization."
Knoxville Hospital & Clinics, a Critical Access Hospital serving Marion County and the surrounding area, is dedicated to providing personal, progressive quality health care with compassion.  For more information regarding this release and other happenings at Knoxville Hospital & Clinics, call the Public Relations office at (641) 842-1418 or visit www.knoxvillehospital.org.
.