KNOXVILLE, IA – Maintaining a healthy weight and proper diet can give an individual a great start towards preventing the onset or progression of chronic disease. However, in today's world of social media use, it can be confusing to know which nutrition sources are credible and which nutrition facts are valid.
The Registered Dietitians at Knoxville Hospital & Clinics (KHC), Laurynn Verry and Susie Roberts, assist patients in understanding how food choices affect their well-being and provide them with information that helps them focus on lifestyle changes, health goals, or understanding their disease better.
Whether you are hospitalized at KHC and need nourishment counseling, are an area athlete needing dietetics advice to help you excel in your sport, or have a health condition that's affecting your diet, Laurynn and Susie are dedicated to helping design a specialized nutrition plan that's right for each individual.
Improving the nutritional health of community members is very important to Laurynn. Working closely with patients who are hospitalized at KHC, Laurynn follows their care and collaborates with all involved health care personnel to coordinate nutrition-related recommendations and interventions customized for each patient.
"Every patient is unique," says Laurynn. "We not only want to help them get through their hospital stay, we also want them to have the best possible health outcomes."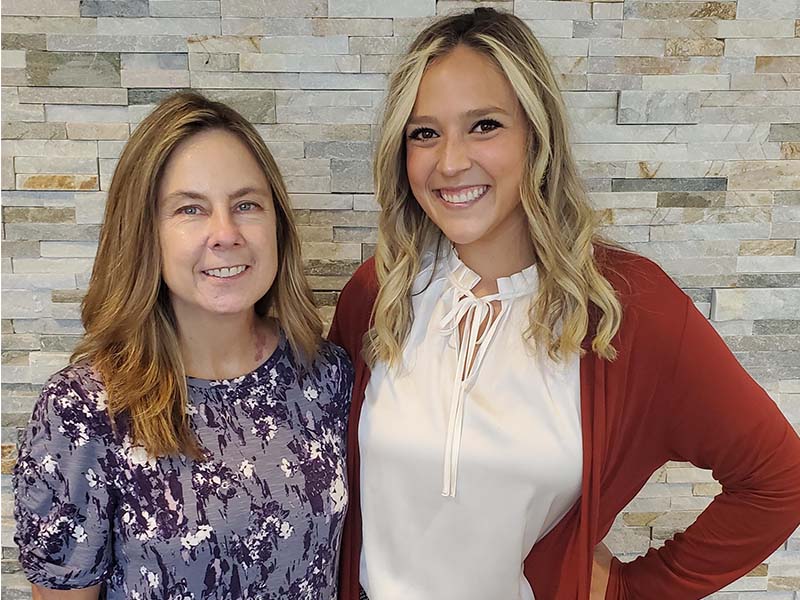 In addition to caring for patients, Laurynn also works with athletes at Knoxville High School to help them maximize their health and sports performance.
"Working with student athletes is a great opportunity for me to advise them on the importance of nutrition for their specific sport or training regimen and to help them understand the effects that proper nutrition has on their body," comments Laurynn.
Besides caring for the hospitalized patients and student athletes, Laurynn and Susie see individuals in the outpatient setting as well. They utilize their expertise and knowledge to consult with patients who are struggling to lose weight or need to improve their diet for other health-related reasons, such as diabetes, high blood pressure, high cholesterol, or weight loss. People are often overwhelmed by the sheer volume of nutrition advice and the latest diets they see and hear about in the news and other social media. Through the nutrition counseling process, KHC's dietitians gain clarity on a patient's particular needs, barriers, and challenges and then collaborate with the patient to devise recommendations, goals, and next steps.
"I enjoy the relationship formed by working together with a patient to achieve his or her goal(s). I love the personal stories that patients share when they see progress happening, such as when their blood glucose numbers come down," said Susie. "It is extremely rewarding to know that I am making a difference in a person's life."
Laurynn received her bachelor's degree in Dietetics from Iowa State University where she also completed her dietetic internship and master's degree. She has a special interest in Diabetes Education, sports nutrition, and eating disorders.
"The most rewarding part of my job is building relationships with patients," shared Laurynn. "I enjoy helping individuals meet their nutrition goals through education for specific diagnoses, but most of all, I love encouraging people."
KHC's second dietitian, Susie, has been a steadfast believer in and promoter of health her entire life, with a passion for nutrition. This motivated her to pursue becoming a registered and licensed dietitian nutritionist—her third career—in 2013. Her goal is to make the science of nutrition easy for patients to understand and implement into their daily life.
To see Laurynn or Susie at KHC, you must be referred by your primary health care provider. Several dietitian services may be covered by your health insurance, but if they are not, KHC has a new, low-cost option available. To request more information, or if you have questions, call (641) 842-2151.
Knoxville Hospital & Clinics is a non-profit community hospital serving Marion County and the surrounding area. Named a "Top 100 Critical Access Hospital" and voted as Best of Red Rock Area's "Best Place to Work" and "Best Hospitality", KHC's highly skilled medical staff and specialists provide personal, compassionate and innovative quality health care to patients. For more information regarding this release and other happenings at Knoxville Hospital & Clinics, call Public Relations at (641) 842-1485.