Living life to the fullest.
Are you living with an injury, illness, or disability that is affecting your ability to complete your daily activities? Do you have trouble with managing everyday objects such as jars, buttons, or zippers? Do you have joint pain or weakness from a past injury or diagnosis such as arthritis or a broken bone? If any of the above sounds like you or a loved one, you may benefit from occupational therapy (OT) services.
Our occupational therapist treats patients with musculoskeletal, cognitive, visual perceptual, and neuromuscular medical conditions that affect their independence with everyday life activities such as self-care, home management, work-related tasks, among other activities.
Usually working one-on-one with patients, the therapist enables people of all ages to live life to the fullest by teaching techniques that focus on adapting the environment and/or task to fit the patient.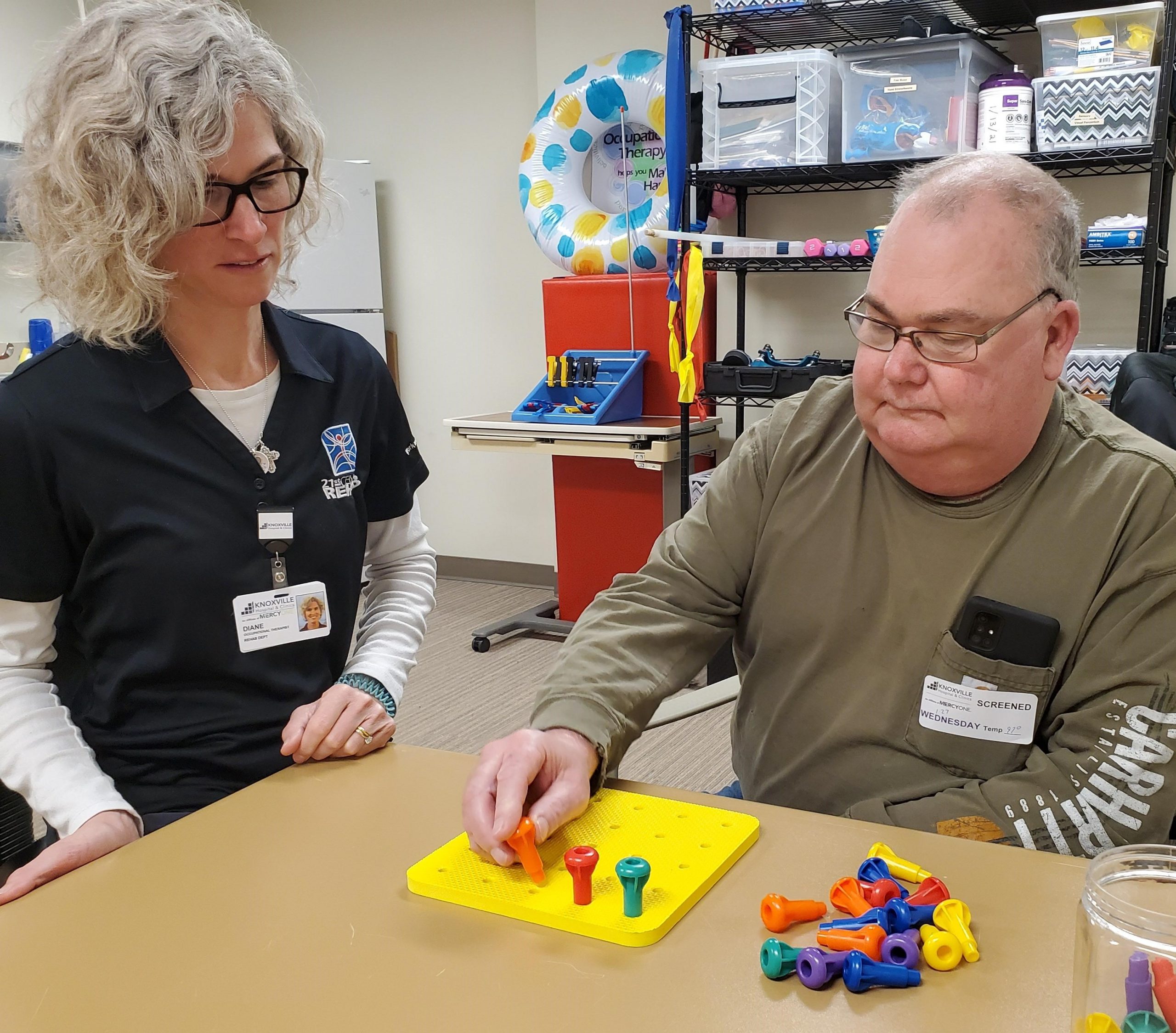 Here are some examples of OT services:
Skilled Rehabilitation: The OT can help inpatients regain or enhance their daily lives after specific events such as hip or knee replacement, stroke or any other debilitating illness.
Assistance and training in performing daily activities: Depending on the patient's needs, assistance and training could involve personal care activities, home management skills, functional cognitive tasks, or skills important to driving a motor vehicle.
Support for older adults experiencing physical and cognitive changes: The OT can assess the patient's abilities and environment, make recommendations for the use of adaptive equipment or identify and remove potential hazards in the home.
Assistive device training: This involves assessing and training in the use of assistive devices.
Hand therapy: Hand therapy involves teaching patients exercises to increase their range of motion, strength, and coordination.
Functional capacity assessments: This includes an evaluation of the patient's daily living needs, as well as an assessment of their home and/or work environment.
Work injury management: The therapist uses special assessments to determine the functional requirements of various jobs, and an employee's capacity to return to work.
Childhood development: These services help children achieve their developmental milestones such as fine motor skills and hand-eye coordination.
Education: A therapist can educate a patient's family or employer about how to accommodate and care for the patient.
The following conditions are some of the most commonly treated:
Sudden serious health conditions such as a stroke, heart attack, brain injury or amputation
Hand injuries and carpal tunnel syndrome
Neurological injuries and conditions
Orthopedic injuries and conditions
Recovery and return to work after a work-related injury
Mental and physical impairments a person has had since birth
Learning and developmental disabilities
If you have any questions about our services or might be wondering whether you may benefit from them, please speak with your physician or call the OT office at (641) 842-1464.
Get To Know More About Occupational Therapy