About The DAISY Award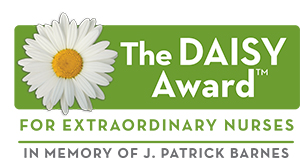 The DAISY (Diseases Attacking the Immune System) Award is an international recognition program that honors and celebrates the skillful, compassionate care nurses provide every day.
The DAISY Foundation was established by the family of J. Patrick Barnes after he died from complications of the autoimmune disease ITP in 1999. During his hospitalization, the Barnes family deeply appreciated the care and compassion shown to Patrick and his entire family. When he died, they felt compelled to say "thank you" to nurses in a very public way. More than 2,500 health care facilities in 15 countries and 50 states now honor extraordinary nurses with The DAISY Award.
Knoxville Hospital & Clinics, through its affiliation with the Mercy Health Network, is proud to be a DAISY Award Partner.
Accepting Nominations
Do you know a nurse who has gone above and beyond in order to make a difference? Nominations are being accepted until April 1, 2018, for the Iowa Daisy Award, which rewards and celebrates nurses who have demonstrated extraordinary clinical skill and compassionate care.
All patients, visitors, staff, and volunteers are welcome to submit their nominations.
Submit Your Nomination
The Daisy Award Development Committee has set forth the following nomination criteria and Selection Committee Membership guidelines. Nominations may be made by patients and their families, physicians, managers, peers, staff, community members or faculty members.
The nominee must have a current, unencumbered, Iowa Registered Nurse License or a Licensed Practical Nurse delivering direct patient care and/or significantly impacting such. Advanced Practice Nurses are eligible.
Has worked a minimum of 2 years in the facility with at least 1 year as a Registered Nurse or LPN.
Is currently practicing in the hospital or a department/area owned by the facility; i.e. Clinic or Long Term Care settings.
Completion of the formal Nomination Form will be submitted to the DAISY Award Selection Committee by the designated date set forth by the facility committee.
Two character references will be requested for each nominee by the Selection Committee which will include one reference from direct supervisor/manager and one reference from physician, peer and or an ancillary department staff member.
The Daisy Award Facility Selection Committee will include at least the
following membership:
Chief Executive Officer
Senior Nurse Leader
Designated Person (HR Manager etc.) per facility choice
Ways to Submit Your Nomination
Submit an online nomination by completing this easy form.
Drop your nomination form into the DAISY box located in the lobby of the Knoxville Clinic.
Questions? 
Contact Sherry Sneller at (641) 842-1555 or ssneller@knoxvillehospital.org, if you have any questions.