The bridge between hospital and home
Knoxville Hospital & Clinics' Skilled Nursing program is for people who have had a qualifying hospital stay (three consecutive days or more for an acute illness, injury, medical procedure or exacerbation of a chronic disease), and need short-term skilled nursing and/or rehabilitation care before transitioning home. Our 24-hour skilled nursing care is provided as an inpatient service at the Knoxville Hospital.
In addition to our skilled nursing staff, we have trained professionals performing the services needed to help patients transition back home. We provide professional nursing care and skilled therapy services in a supportive environment that encourages patients in regaining self-sufficiency. These services include: Physical Therapy, IV Therapy, Wound Care, Nutritional Support as well as Social Services/Discharge Planning, and many more.
They also help facilitate and coordinate care to prepare patients (and their families) for discharge from the hospital and into the patient's community setting (i.e., home, assisted living, long-term care, living with family/friend, etc.)
For more information, please contact Utilization Review Coordinator Lisa Oldham at (641) 842-1404.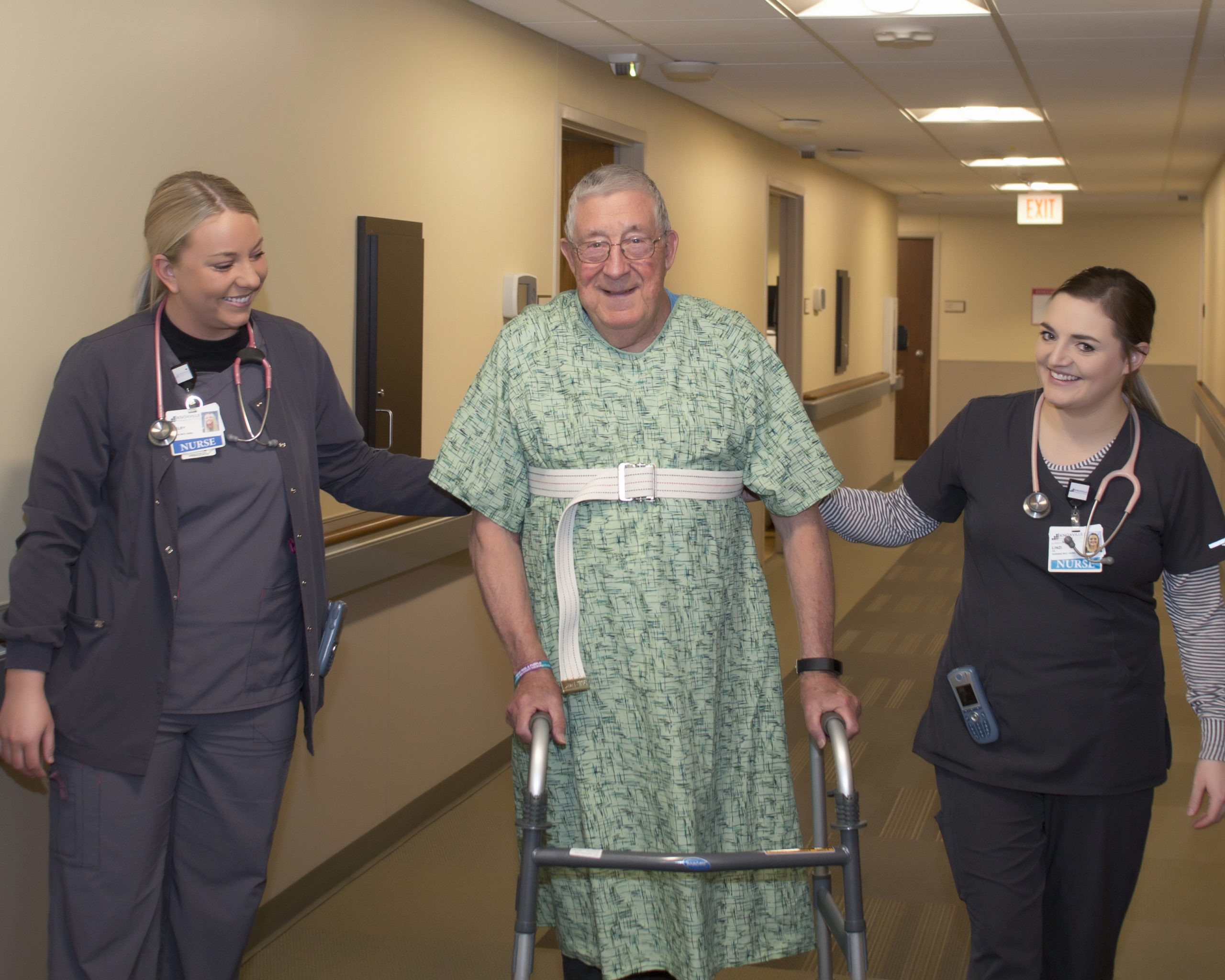 Our services
The types of care a patient will receive are related to the condition to which they were treated during their hospital stay. For example, services may include:
Skilled nursing care
Nutrition support
Skilled therapy services (physical, occupational, speech/language pathology)
Complex wound care
Intravenous or intramuscular injections and intravenous feeding
Case management
Prescription medications
Certain medical supplies and equipment
Services are provided with the expectation that the patient can improve within a reasonable, and generally predictable, timeframe, and transition to home or another level of care.
Our approach to personalized care
At Knoxville Hospital & Clinics we are large enough to provide state-of-the-art resources, like our luxurious, family-oriented patient rooms and expansive physical therapy gym, yet intimate enough to deliver highly focused, personalized care.
Our dedication to delivering exceptional care goes beyond just focusing our efforts on the patient's immediate health care needs. Our staff takes a holistic approach to patient care. It's a different way of caring, a better way to provide care.
We use a multidisciplinary team approach to care.  Our team includes a physician, case manager, dietitian, pharmacist, respiratory therapist, physical therapist, occupational therapist, infection prevention director, and nursing staff. You will not find a more dedicated team of professionals. Together, they help patients regain their strength, mobility, and independence – so they can return home.
Generous hospitality
There is no place like home. We will make your stay as comfortable and pleasant as possible:
You may dress in your favorite clothes.
Your family is welcome.
Enjoy selecting your own meals and snacks from room service.
Stay entertained with access to the Internet and television.
Enjoy the spirit-lifting daily activities, including our animal-assisted therapy program.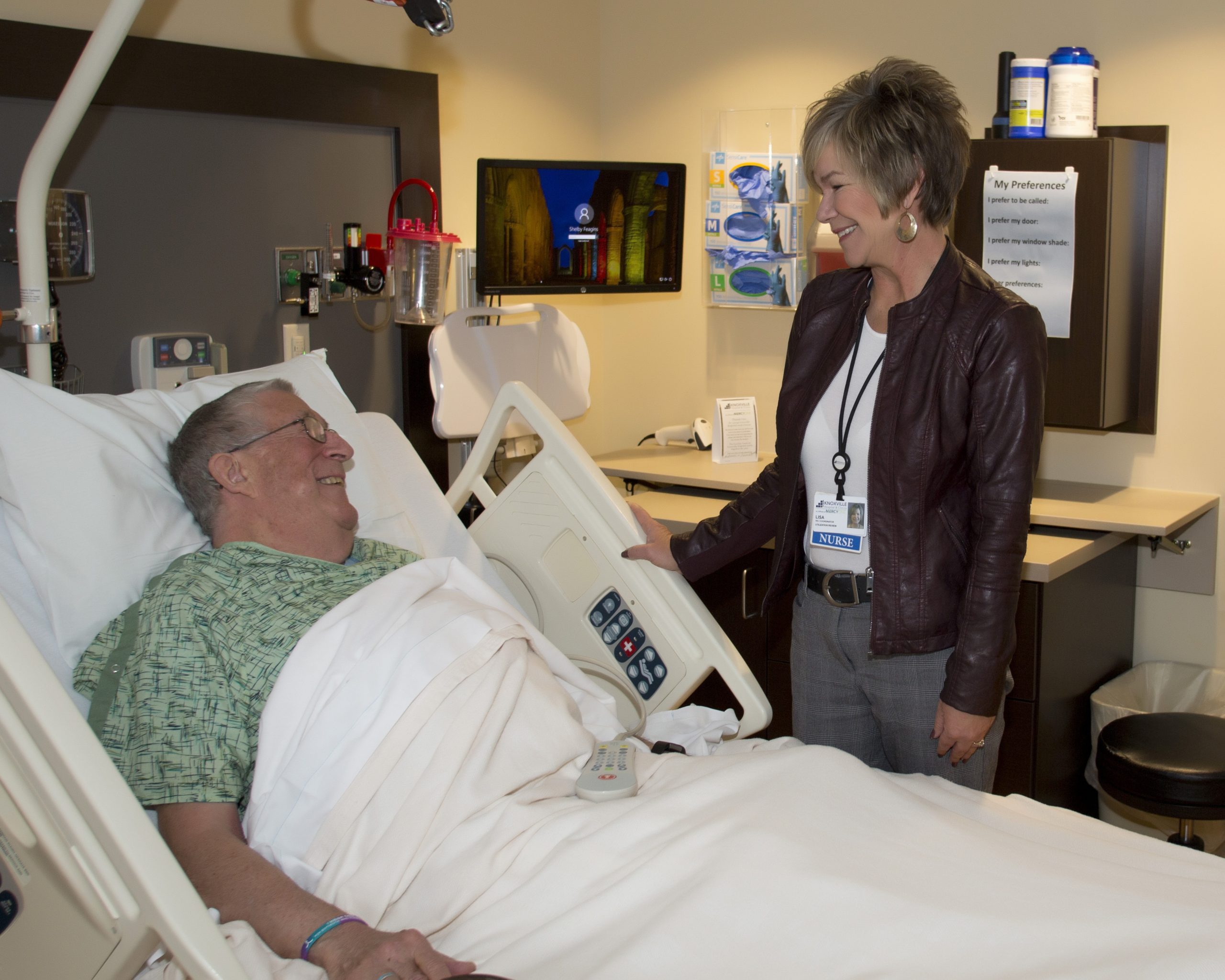 Your best choice for care
You have a choice when it comes to where you receive skilled nursing and rehabilitation services. You can trust the Knoxville Hospital & Clinics to deliver excellent clinical care, blended with the hospitality you deserve.
We are especially pleased to make our services available to residents of Marion and surrounding counties, so they can receive the care they need close to home.
Eligibility and insurance coverage
Knoxville Hospital & Clinics is a Medicare-certified skilled nursing facility. To be eligible for services, a patient's doctor must order skilled nursing care, and the patient must meet criteria set by their insurance company.
For additional information please contact (641) 842-1404.