The Knoxville Hospital & Clinics Diabetes Center offers comprehensive inpatient and outpatient services to help persons living with diabetes or at risk of developing the disease gain control – and stay in control – of diabetes.

Types of Diabetes
Prediabetes: About 1 in 3 adults in the U.S. have prediabetes. Prediabetes is diagnosed when blood sugar is higher than normal, but not high enough to diagnose diabetes. Type 2 diabetes may be prevented or delayed with lifestyle changes.
Type 1 Diabetes: Type 1 diabetes is usually diagnosed in childhood, but can occur in adults. With Type 1 diabetes, the pancreas does not make insulin — a hormone needed to turn starches, sugars and other food into energy the body can use. People cannot live without insulin. Type 1 diabetes is treated with healthy eating, physical activity and insulin. A person with Type 1 diabetes must take insulin every day.
Type 2 Diabetes: If you have Type 2 diabetes, your body doesn't use insulin correctly. This is called insulin resistance. Over time, your pancreas can't make enough insulin to overcome the insulin resistance and blood sugar gets too high. Type 2 diabetes is life-long. There is no cure, but there are things you can do to control your blood sugar.
Gestational Diabetes: Gestational diabetes is a form of Type 2 diabetes, and it may begin between the 24th and 28th week of pregnancy. All women become resistant to the action of insulin late in pregnancy. Women who have gestational diabetes are not able to produce enough insulin to overcome the insulin resistance and blood sugar goes too high. If blood sugar is too high during pregnancy, it can cause several problems that put the mother or baby at risk.
Comprehensive Diabetes Care
The Diabetes Center takes a multidisciplinary team approach to delivering diabetes care. The medical team includes: primary care providers, a dietitian and Certified Diabetes Educator, and nursing staff. Together, they take care of patients, support families, and provide outreach at community events throughout the year.
Staff with the KHC Diabetes Center will:
Help you improve diabetes management through education, counseling, blood glucose self-monitoring and insulin training.
Tailor a treatment plan that will normalize your blood glucose levels to help you live a long, healthy life with diabetes.
Assist you learn effective self-management skills to reduce long-term complications.
Provide diabetes education materials.
Offer nutritional guidance and exercise planning.
Deliver exceptional inpatient and outpatient healthcare services.
Diabetes Support Group

Whether newly diagnosed or if you have had diabetes for many years, our support group can help you with your diabetes management. You will gain peer support and learn about healthy lifestyle habits. Group meetings are held on the 4th Tuesday of each month from 5:30-6:30 p.m. Registration is required. LEARN MORE
Each month a variety of diabetes-related topics will be covered and discussed with your support group members. Some topics include:
Meal planning tips and healthy recipes
Ideas for easy and safe exercises
Stress management and coping techniques
Taking medication
Understanding blood glucose readings
Latest information and resources
Coordinator of the Diabetes Support Group is Kari Page, RD, LD, Director of Nutrition Services.
Diabetes Consultation Services
Basic Skills
This program is designed for people with Type 2 diabetes, who want to learn basic self-care skills. The basic skills program is offered in an individual or family setting. You will learn about these and other aspects of self-care.
What diabetes is and how it affects your body
Good nutrition habits and how to plan meals and snacks
How physical activity can help you control your blood glucose
How to monitor your blood glucose levels
How to know when you need to change your medication or blood glucose monitoring schedule.
Insulin Consultation
If you are taking insulin for Type 2 diabetes or have Type 1 diabetes, consultations can help you learn the basic skills and importance of taking insulin, and how to fit insulin into your life.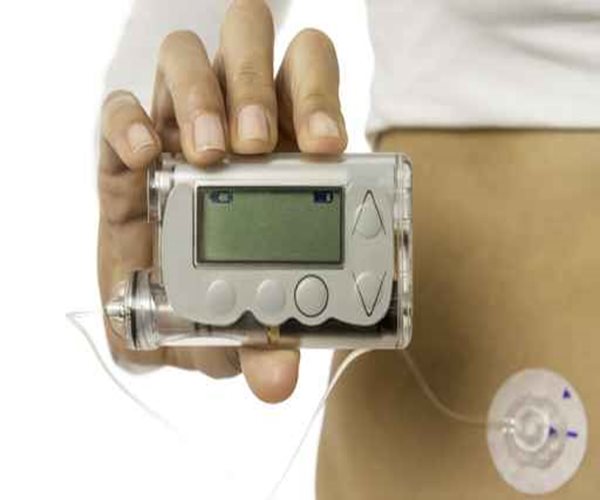 Insulin Pump Therapy
We offer:
Insulin pump start up
Upgrades
Management
Personal Glucose Monitors (sensors) to detect the sugar in the fluid between your body cells, instead of in the blood.
Gestational Diabetes
Gestational diabetes can occur during pregnancy. An individual consultation with our certified diabetes educator can help you understand and monitor your glucose control. This service includes continuous sessions to monitor progress of your glucose control. A post-delivery session is also held.
Professional Continuous Glucose Monitor
This allows your education team and health care provider to view continuous blood sugar (glucose) readings over at least three days, 24 hours a day.
Patterns are reviewed to determine changes to your medication, nutrition plan, and blood glucose monitoring schedule.
Accredited Diabetes Education Program
Diabetes education is a recognized part of your diabetes care. It is covered by Medicare and most health insurance plans when it is offered through an accredited diabetes education program, which has met vigorous criteria set by the U.S. Department of Health and Human Services. KHC's Diabetes Center is an accredited diabetes education program.
State-Certified Outpatient Education Program (Site #63-036-00); American Diabetes Association, Certificate of Education Recognition (Recertification 2018-2022) 
Learn More
For more information about treatment options, talk to your primary care provider or contact the Diabetes Program Coordinator at 641-842-1519.