Detecting nerve & muscle disorders
Electromyography (EMG) Testing
Knoxville Hospital & Clinics provides patients with a skilled physician who specializes in disorders affecting the nerves and muscles. For these disorders, electrodiagnositc studies can help establish diagnoses, identify other problems, and define the severity of problems.
Electromyography (EMG) and other electrodiagnostic tests read the electrical signals that travel from the brain to motor nerves to muscles. Interrupted signals cause problems such as carpal tunnel, sciatica, nerve entrapment, and other nerve and muscle issues.
Patients who experience weakness, atrophy, fatigue, cramps, muscle movements, stiffness, pain, tingling skin sensations, and numbness may undergo an electrodiagnostic test.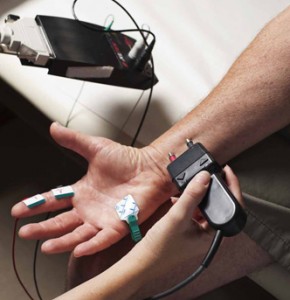 Donna Bahls, MD - Physical Medicine & Rehabilitation
Dr. Donna Bahls specializes in Electromyography (EMG) and Electro diagnosis and sees patients in Knoxville based on medical referrals for EMG testing. She is affiliated with Capital Orthopaedics & Sports Medicine.
To schedule an appointment to see Dr. Bahls in Knoxville, please call 641-842-1560.