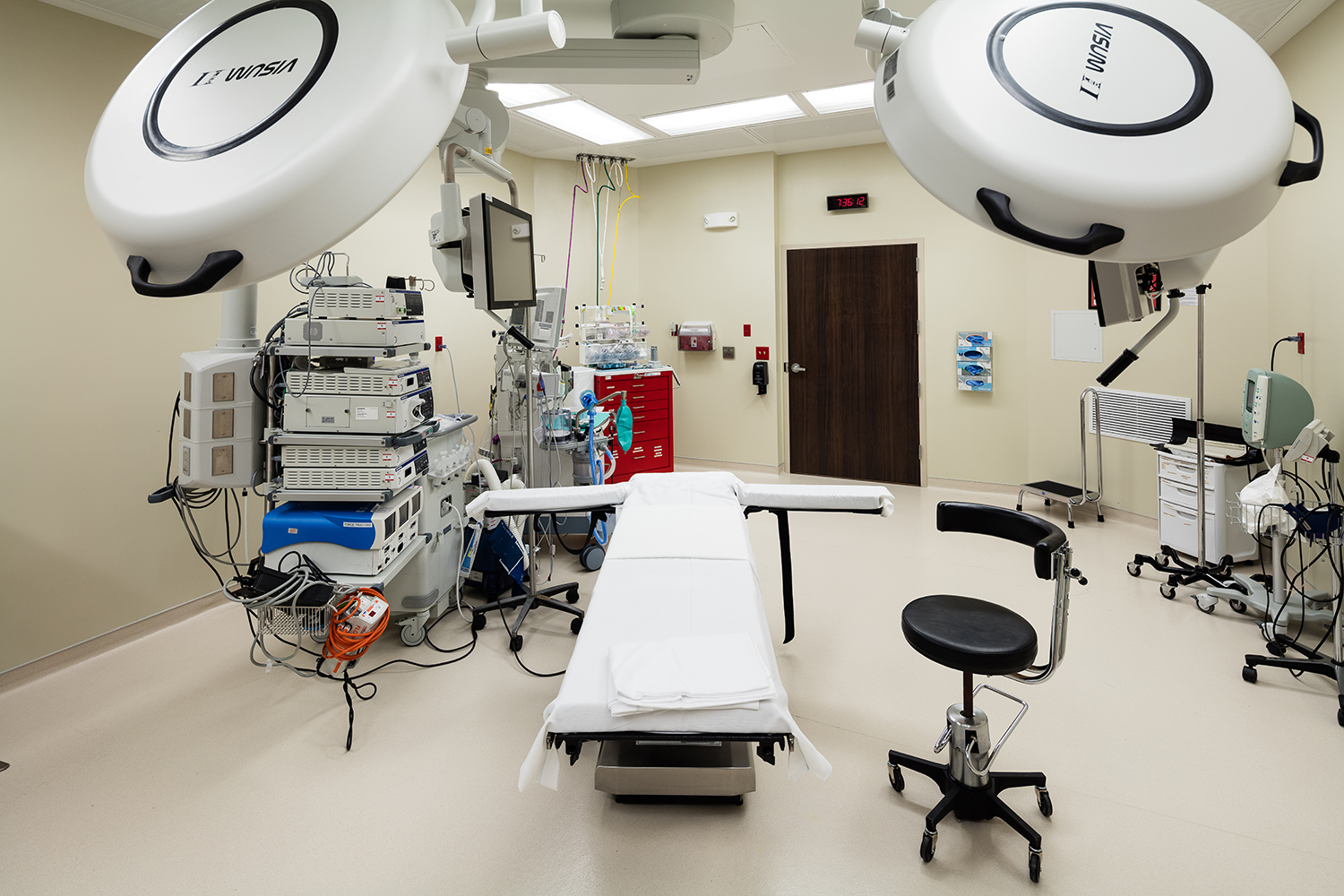 At Knoxville Hospital & Clinics (KHC), our surgical team is dedicated to providing you with the very best operative and postoperative care in a safe and comfortable healing environment.
In addition to a skilled surgeon, our surgical teams include a nurse anesthetist, registered nurses, surgical technologist, and a sterile processing technician. Our professionally trained staff are focused on patient centered care and providing the very best in quality outcomes.
The results of these efforts were acknowledged in the May 2017 Press Ganey survey, in which KHC's Surgical Department received a 100 percent patient satisfaction score in not only one category, but all seven.
Our recently remodeled surgical and endoscopy suites are fully equipped with advanced technology for our patients to receive the best care. Pre-operative and postoperative rooms allow our patients to remain in the same room, while allowing the nursing staff to have better access to patients throughout all phases of your surgery procedure.
Knoxville Hospital & Clinics provides same day outpatient and inpatient surgical services with advanced technology close to home. We provide a variety of surgeries. Here is a listing of some of the most common procedures.
Gastrointestinal
Colon cancer screening
Hernia repair
Hiatal hernial repair
Stomach screening for Hiatal Hernia and ulcers
Treatment of esophageal stricture
General Surgery
Gallbladder removal
Appendectomy
Breast biopsy
Breast cancer surgery
Colon cancer surgery and resection
Gastric banding (the LAP-BAND System)
Laparoscopically assisted vaginal hysterectomy
Removal of skin lesions
Surgies related to diseases of the liver, pancreas, stomach and spleen
Tubal ligation
Ophthalmology
Orthopedics
Ankle arthroscopy
Hip replacement
Knee arthroscopy
Orthopedic trauma surgery (e.g., hip fractures)
Robotic-assisted partial and total knee replacements
Shoulder arthroscopy
Plastic surgery
Hand: carpel tunnel release, trigger finger release, DeQuervain's Tenosynovitis, Dupytren's Contracture (surgical and non-surgical technique), tendon and nerve repair, microvascular replantation, traumatic injury and fracture repair
Breast and nipple reconstruction post (or in conjunction with) mastectomy
Breast contouring: augmentation, lift and reduction (male and female)
Body contouring: tummy tuck, liposuction, arm lift, body lift
Post gastric bypass and massive weight loss skin removal
Facial rejuvenation and contouring: eyelid skin removal (blepharoplasty), face/neck lift, forehead lift, rhinoplasty
Facial traumatic injury and fracture repair
Ear surgery (Otoplasty)
MOHS reconstruction
Hair transplantation
Podiatry
Correction of bunions and hammertoes
Treatment of Plantar Fasciitis
Foot and ankle surgeries
For more information, please call 641-842-1441.