Jan Myers
Jan Myers, RNC, MSN joined Knoxville Hospital & Clinics on Oct. 1, 2018, as Chief Nursing Officer where her primary responsibility is the oversight of all nursing functions.
Myers brought to KHC more than 25 years of experience in the healthcare field in a variety of clinical settings. She most recently served as the Clinical Services Director at the Skiff Medical Center in Newton.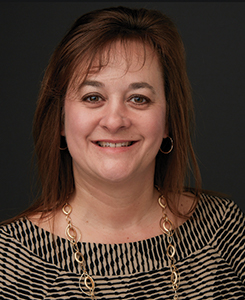 Education & Experiences
Prior to that position, she served as the Director of Pediatric Services at Mercy Medical Center in Des Moines, as well as an RN/charge nurse and chair of Clinical Quality at Blank Children's Hospital.
Myers received her Bachelor of Science in Nursing and her Master's degree in Nursing Administration from the University of Iowa. She is also a board-certified pediatric nurse. In 2007, she was honored as a 100 Great Nurses of Iowa. Myers and her family reside in Colfax.
Jan plays an integral role by providing strategic oversight of the nursing staff and working collaboratively with KHC's medical staff and administrators to ensure KHC continues to deliver the highest quality of compassionate care to our patients.