KNOXVILLE, IA – After 18 years of providing medical care for local families, and 38 years total, Knoxville Hospital & Clinics (KHC) physician Dr. Michael Van Natta will celebrate his retirement and last day on December 17.
Van Natta first became interested in medicine when his dad, who was also a physician, took him along on house calls when he was young. Through visits and general conversations, he became more interested and decided to pursue medicine himself.
"When my dad took me on house calls, I was fascinated with the breadth and variety of conditions he was evaluating and treating," said Van Natta. "I saw my first tonsillectomy at age 14 and came to appreciate the help he gave to his patient and how much they appreciated it as well."
In high school, Van Natta naturally gravitated to the sciences; and the teachers and fellow classmates became a big influence on him. In college, being a member of the Pre-Med club also kept him inspired.
"It was intellectually intriguing," recalled Van Natta. "It really appealed to me, the idea of training for a career where I could really help people."
After Van Natta graduated from Des Moines University in 1983, he started practicing medicine in Des Moines with his dad in 1987. After practicing alongside his dad for 10 years, his dad passed away at the age 79. Van Natta spent another seven years practicing medicine in Des Moines but grew tired of the daily grind and joined the KHC medical staff in January 2003.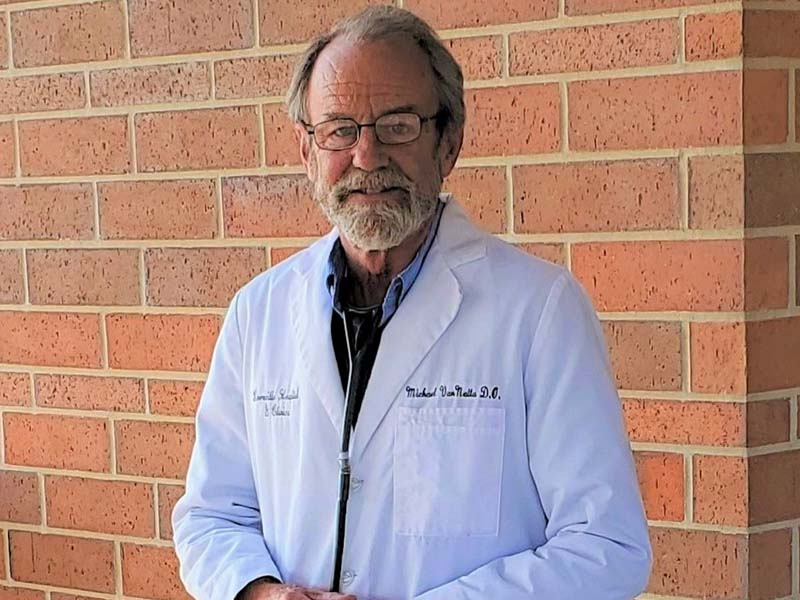 "It has to be said that I was a bit fearful coming to rural medicine in Knoxville," reflected Van Natta. "However, through the years, I've had the privilege to watch KHC grow into a rural health care delivery system second to none and one that seems to want to continue to grow, expand, and take on new challenges at every corner. I see nothing but a promising future."
Having dedicated his life to medicine for the past 38 years, Van Natta shares that he has been fortunate to be in a position where patients are able to share some of the most personal details of their life, and those interactions with his patients is something he will miss the most.
"Medicine offers a unique challenge in addressing patient's needs, combining the cutting edge of science and the art of social interactions. I have been enriched by my patient's experiences and derive great satisfaction from doing what I can to address their needs," says Van Natta. "I've enjoyed and been surprised at my own evolution as a doctor and as a human being. Also, medicine has a way to make a practitioner quite humble at times. I am saddened to leave my patients, but I know they are in good hands with the providers at KHC."
While he has been involved in the lives of his patients, Van Natta now looks forward to being more a part of his wife Joann's life and fully participate in the lives of his children and Joann's children and grandchildren.
In addition to Joann, Van Natta has three children that he looks forward to spending more time with. Daughter Elizabeth is an anesthesiologist and Cleveland Clinic-trained pain specialist currently practicing in Kansas City; son Eric is a landscape architect in Tampa; and youngest son Matthew works in health care at UnityPoint Health – Iowa Methodist Medical Center. Van Natta also looks forward to grandchildren someday!
With many interests and directions in his life, Van Natta looks to take advantage of upcoming years to concentrate on other interests more fully and hone his skills in other endeavors in which, like Family Practice, he will never be an expert but always a student.
"I'm looking forward to traveling to wine countries and foreign places to aid in my devotion of growing the best grapes, making the best wine, and writing the best fiction," said Van Natta. "I also plan to catch the biggest trout in the most far-flung locales, hit more greens in regulation on the golf course (local and afield), become better at guitar, and maybe even dust off the old sailboat."
Looking back on 38 years in the health care field, when asked what he would tell a young doctor just establishing their medical practice, Van Natta had these words of advice: "Remember, young doctor, that you have been called to serve those that need your skill and experience, and it is in serving that you become."
"There are very few life events that offer a person a chance to change their entire being, their core personality, to evolve to a higher, more complete understanding of life. Near-death, going to war, starting a family, and… practicing medicine is one of them," said Van Natta.
As he looks ahead to December and hanging his stethoscope up for good, Van Natta reflects on the many opportunities he has been given and the joy practicing medicine has brought him.
"I am quite happy to have had the opportunity to work these years and on many levels with top-shelf professionals – people who are dedicated, hard-working, well-intentioned, and blessed with many talents. I have been lucky. It has always been an inspiration to me. Work never felt like work. Work was fun."
Knoxville Hospital & Clinics is a non-profit community hospital serving Marion County and the surrounding area. Named a "Top 100 Critical Access Hospital" and voted as Best of Red Rock Area's "Best Place to Work" and "Best Hospitality", KHC's highly skilled medical staff and specialists provide personal, compassionate and innovative quality health care to patients. For more information regarding this release and other happenings at Knoxville Hospital & Clinics, call Public Relations at (641) 842-1485.