KNOXVILLE, IA – Dwight and Ruth Johnston recently donated $50,000 to the Knoxville Hospital & Clinics Foundation (KHC) in memory of Ruth's sister and brother-in-law Barbara and Bill Riebe.
"We are very appreciative of the Johnstons and their long-time friendship with the hospital," said Kevin Kincaid, KHC CEO. "Their generosity is a testimony to their commitment to our community and to the hospital's mission of providing the best health care services to our patients."
The Johnstons are grateful to have a local hospital of Knoxville Hospital & Clinic's caliber in the community. "We are very fortunate that we haven't had many serious health issues; however, we have friends and family whose lives have been saved thanks to the hospital's incredible health care team," said Dwight.
The couple designated their contribution to support the purchase of the hospital's new digital 3D mammography unit, which was installed in October.
"We feel very blessed to have a caring and reputable hospital in our community," said Ruth. "My sister and brother-in-law would be very pleased to know that their legacy is associated with this hospital and the impact they are having on women's health."
The mammography unit, located in the "Dental Designs by Holst & Associates Mammography Suite" in Imaging Services, is the newest advancement in breast imaging designed to detect early breast cancer and can be done in combination with traditional digital mammography.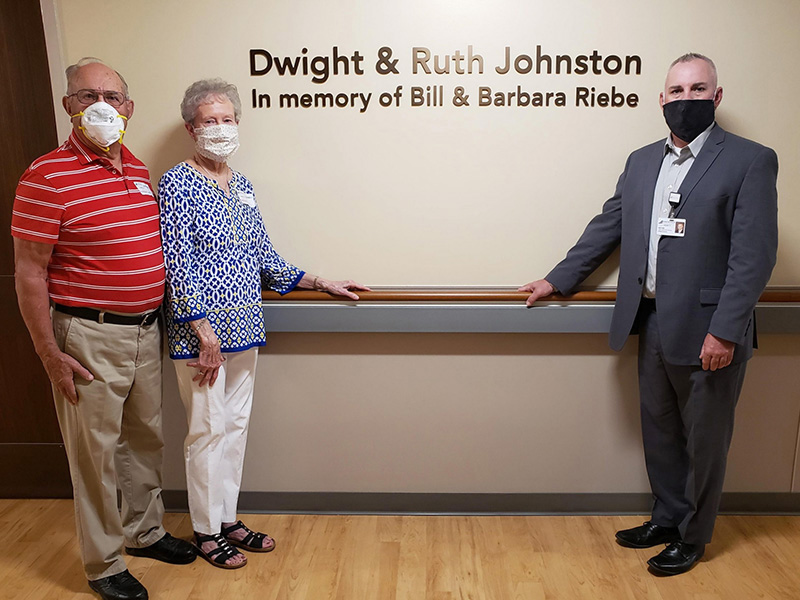 With 3D Mammography, the X-ray tube moves closer over the breast in an arc during the exposure, capturing images in only four seconds per view and aiding in the patient's comfort during the screening. It acquires multiple images from different angles, allowing providers to examine the breast tissue layer by layer and differentiate even the smallest abnormalities.
"This advancement is even more advantageous for women with dense breast tissue that can be difficult to be seen in traditional imaging," said Michelle Irwin, Director of Imaging. "It's just as important now to schedule your screening, however with this advancement in technology, we are able to detect the smallest concerns even earlier, which greatly improves the chances for successful treatment," said Irwin.
To schedule a mammography screening, call (641) 842-1518.
Knoxville Hospital & Clinics is a non-profit community hospital serving Marion County and the surrounding area. Named a "Top 100 Critical Access Hospital" and voted as Best of Red Rock Area's "Best Place to Work" and "Best Hospitality", KHC's highly skilled medical staff and specialists provide personal, compassionate and innovative quality health care to patients. For more information regarding this release and other happenings at Knoxville Hospital & Clinics, call Public Relations at (641) 842-1485.